There's finally a real chill in the air this morning and I've been saving up this recipe for just such a day. Fresh turmeric and ginger have been making an appearance at local farmers markets for a couple of weeks now. Their amazing colors of pink, ivory and gold bear no resemblance to the dull brown and gray roots you will find at the grocery store either in color or flavor. While it's a task to put up enough to last an entire year, it's worth the effort because the preserved flavor of freshly dug roots  in your dehydrator or by using a candy method far surpass anything you've ever bought from the store.
And this is why I specifically saved up the fresh farm maple syrup given to me by the folks at Savage River Farm in Garrett County, Maryland a few weeks back and combined it with maple sugar from Milroy Farms in Pennsylvania to make Candied Ginger.  The result is sliced baby ginger that is golden brown, spicy and sweet, all at the same time when you bite into it. The intense color and flavor of small batch farm maple syrup combined with locally grown fresh ginger makes any dessert, soup or drink simply amazing. But don't let that stop you from trying this with store-bought candied ginger or ground turmeric. Some great products exist, they are just not quite so intense so you will need to do a little adjusting.
It was pretty obvious from the drop in temperature and the smell of a wood burning fire last night when I stepped outside, that we would have a nice fall morning today. So I pulled out everything necessary to make a cup of Turmeric Tea. And you're in luck because I've got a recipe that you can make with either local fresh turmeric and ginger or ground spices. There are several recipes on the internet, but many are much stronger than this recipe and don't use fresh roots. After testing this recipe a with a couple of different dairy alternatives , I settled on coconut milk for best results.
If you choose to use full-fat coconut milk, remember that like dairy milk, the fat in the "milk" encapsulates many of the spices so you may need to adjust the amounts a bit. I was pleasantly surprised at how much I enjoyed this tea. It's a toss-up for me between the Sweet Potato Lattes and this for a local warm drink if I'm avoiding chocolate and coffee. Both are soothing, rich, colorful and scream fall. Both can be served to young and old and are significantly more healthy than alternatives and use fresh locally grown organic ingredients.
So drink up. This recipe makes just a single cup. If you decide to increase the volume for a group, you'll need to adjust the spices. Many times that means adding more than just the multiplier. But this one is forgiving and you can use more or less of everything.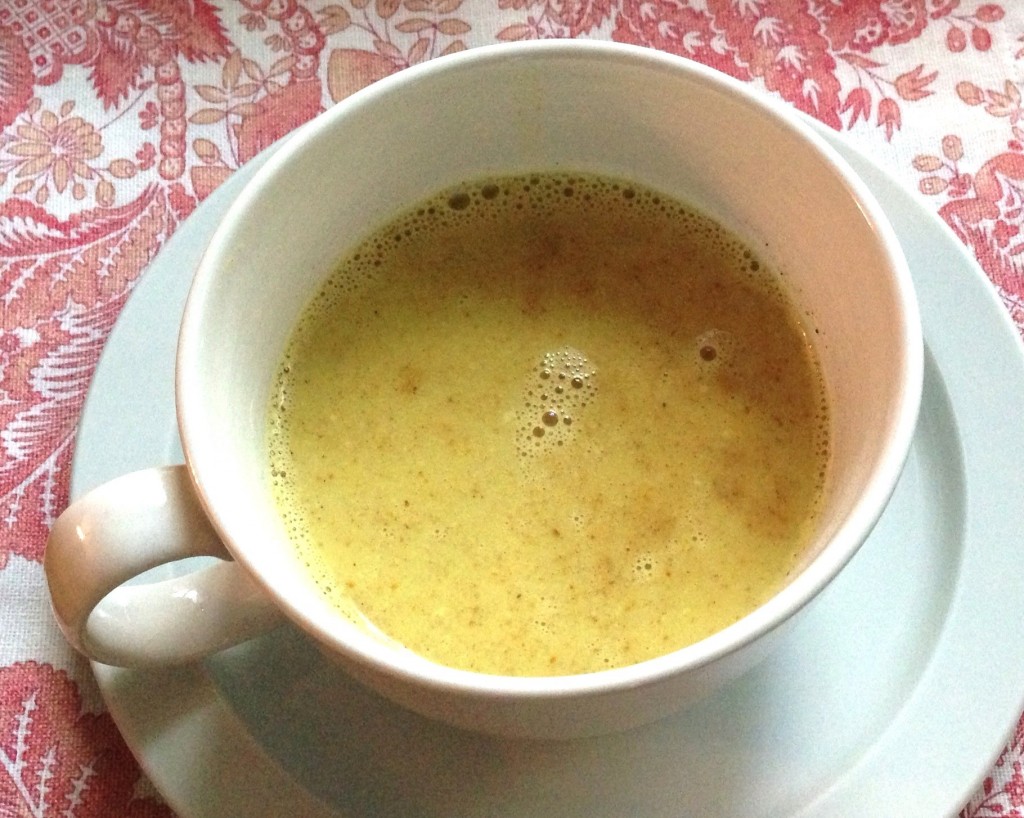 Fresh Turmeric Tea with Maple Syrup Candied Ginger

Ingredients using fresh turmeric
6-8 oz coconut milk (either low-fat or whole-fat)
3/4 – 1 teaspoon very finely chopped freshly dug turmeric
1/4 teaspoon Pumpkin Pie spice (or a combination that you like)
1/4 teaspoon Vietnamese Saigon Cinnamon
3/4 -1 teaspoon finely chopped fresh Maple Candied Ginger
1/2 teaspoon crumb maple sugar (infused with fresh ginger)
1/2 -1 teaspoon local honey (medium to dark in color)
fresh grated nutmeg for garnish
Ingredients using all dry spices
Preparation
In a small saucepan, combine all of the ingredients and whisk to eliminate all of any lumps from the spices.
Gently warm the ingredients over medium heat for a couple of minutes until it barely begins to simmer (bubble).
Cook for just a minute or two to warm through. Remember that a cool mug will chill it immediately so bring it to a temperature to accommodate the change.
Strain into a cup or mug.
Garnish with whipped coconut cream and a sprinkle of cinnamon or a little fresh grated nutmeg.