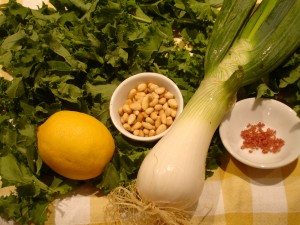 Five Points hosted a Saturday Sidewalk Sale and Farmers Market last weekend which was well-attended by the neighbors. The YMCA Little Princess Group came and sold lemonade to benefit Japan's tsunami victims.  Local bread maker Dick Bessey,  ABC Pie Company of Raleigh, Wheeler Ranch from Louisburg (pasture raised beef) and Truffles NC (think truffle butter!) came out to sell their wonderful food.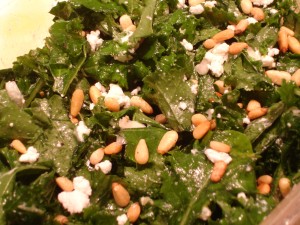 I brought some salads, beet hummus, baked beans, beet & chocolate cake and several jams made with local sustainably grown ingredients. New Grass Gardens supplied the organic fresh baby kale and lovely fresh onions.  I considered making panini sandwiches but the Kale Ceviche recipe from Holly Herrick's cookbook looked lovely and refreshing for what was going to be the start of our warmer summer weather.  I searched the web for some variations because I thought the original recipe was a bland. What I ended up creating was a merge of several recipes and flavors. I was really surprised at how well-received it was.
Kale Ceviche
Ingredients
4 cups of loosely packed baby kale
1/4 cup uncured sweet fresh onions
2 tablespoon fresh lemon juice
1/2 teaspoon roasted garlic (use less if using raw)
1/8 teaspoon fresh ground pepper
1/8-1/4 teaspoon Red Alae Hawaiian Kai sea salt
dash cayenne pepper (optional)
1/4 cup toasted pine nuts
1/4 cup crumbled feta (more if you like)
2 tablespoons extra virgin olive oil
Preparation
Wash and dry the kale. Remove the stems and tear into bite-size pieces.
Slice the onion thinly and cut the strips into pieces about 1″ long. Add to the kale.
Using a mortar & pestle, grind the salt into a fine powder before using it.
Smash the roasted garlic and add it to the lemon juice along with the salt, pepper and cayenne.
Add the juice, garlic and spices to the kale & onions. Let it sit for at least 8 hours in the refrigerator.
Add in the olive oil, pine nuts and crumbled feta about and hour before serving. You can serve at room temperature or chilled.