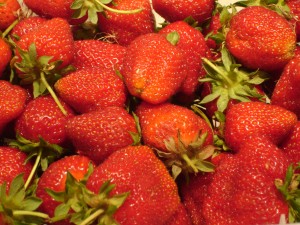 As many of you know, I love fresh fruit. Unfortunately it's impossible to eat everything that gets picked at the farm in a single week. So I freeze some of them, dehydrate some of them, make different types of jams, and then eat them in everything from salads to breakfast smoothies to desserts. This year I went up to Whitted Bowers Farm which is in Cedar Grove, NC.  It's not a huge family farm, but they grow using organic methods, which is important to me.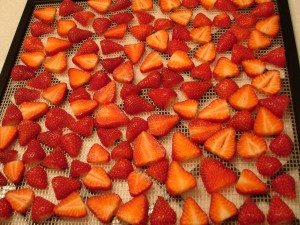 Most strawberries are treated with some pretty nasty fungicides that I don't care to eat. Strawberries are on of the "dirty dozen" foods that are highly contaminated with chemicals. For a while, I gave up eating them all together because I couldn't find any that tasted like a strawberry should and were chemical-free. But having found this farm, I'm pretty happy to drive the hour to guarantee some healthy strawberries all year-long.
Organically grown strawberries just don't hold as well once picked, so you need a plan of action if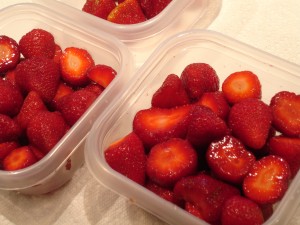 you want to get the most out of your berries. I normally go through my berries right away and select out the very best ones for desserts or salads where it's important to have a beautiful berry.
Other perfect berries get sliced for the dehydrator. I use a small Excalibur and find that is sufficient for 2-4 people. It is very important to dehydrate excellent quality fruit to avoid storage issues. Strawberries are wonderful either reconstituted or eaten as a dried snack and they take up very little space once dehydrated.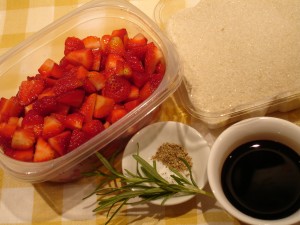 The lesser quality berries get divided between freezing and jams. Strawberries will freeze well sliced, quartered or whole. The sliced berries seem to blend quicker and more evenly in smoothies and the whole berries are great for making jam or cobblers. Regardless of their use, I cut out any bad spots on the berries and then prep them.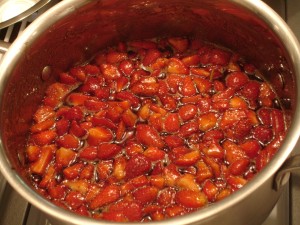 I measure out enough berries to make one or two small batches of jam first and add the appropriate amount of sugar to coat the berries and let them sit while I deal with the rest. Working quickly, I get the remaining berries into the freezer. Many folks use freezer bags because they take up less space. I typically use a hard container because I like to stack every thing in the freezer and as things get jostled around, the berries don't get damaged.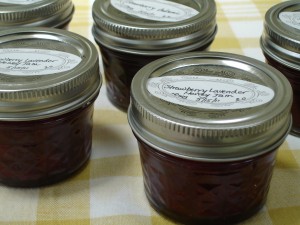 It's important to measure or weigh your frozen berries,  as well as date and mark the name of the berry that you picked. I also note the farm. Some recipes work better with different varieties of berries and over time, you will develop your favorite places and berries for each recipe.
Strawberry Balsamic Jam
Ingredients

8 1/2 cups chopped clean strawberries
2 1/2 cups organic cane sugar
4-6 tablespoons balsamic vinegar
1/4 teaspoon fresh ground black pepper
2 springs fresh rosemary 3″ long
1/2 – 1 teaspoon fresh lemon juice
1/2 teaspoon citric acid (optional)
1 tablespoon very fine chopped dried apple (optional)
Preparation
Wash and dry your strawberries quickly.
Hull them, removing any bad sections and cut them up into 1/2″ pieces.
Simmer all of the ingredients except for the citric acid, lemon juice and dried apple, in a non-reactive pan for about 10 minutes on medium heat.
Using a slotted spoon, remove all of the berries and leave the juice. Set the berries aside.
Add the apple to the juice and continue to cook the juice on medium/high to reduce and thicken. You will need to reach a temperature of 220F to get the juice to "gel" because we are not using pectin in this recipe. The dried apple will add some natural pectin and absorb some of the juice as it reconstitutes. You can leave out the apple if you don't care for the taste or texture and just cook it longer to reduce the water content.
Once you reach the 220F point, stop and turn off the heat.
Add the berries back in and refrigerate the mixture for 12 hours.
After 12 hours, remove the rosemary and reheat all of the ingredients adding your lemon juice at this point.
Heat on medium to warm and then move to high and take the mixture to 220F for 5 minutes to make sure you set all of the ingredients well.
If you plan to "canning" instead of freezing, add the citric acid which will help acidify the  jam without adding more lemon flavor.
If you plan to can, the normal guideline for strawberries is a water bath for 10 minutes for small pint jars using the standard sterile hot jars and hot liquid fill method. I use a half pint jar most of the time personally. Guides indicate to leave 1/4″ head space in the jar which works well whether you pressure can or use a water bath method.