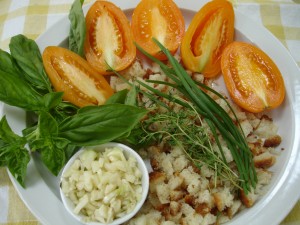 By now most of you can guess I cook hundreds of tomatoes each season, in all different shapes and sizes. My sauces vary each year depending on the crops that are available. This year has been very good for just about everything despite the lack of rain and intense heat. I had an opportunity to experiment with some new varieties of tomatoes and recipes and one of the most fun was an heirloom orange plum called orange-banana (they do not taste like either oranges or bananas).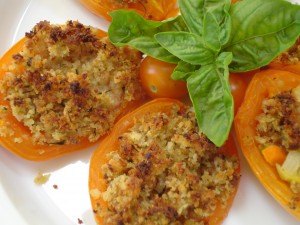 The base for this recipe came from Andrea Reusing's new book (Kathe's Baked Plum Tomatoes). I served them warm the first time I tested the recipe. The next day they were served as chilled farmers' market samples at the NoFo Saturday Fair. I really preferred it warm when the bread and herb topping is crunchy. The color of the tomatoes stays bright and the texture remains firm, but I think that a fork and knife is a safe way to eat them over finger food. These would be tasty served on a bed of salad greens or arugula, alongside some not-so-local avocado slices and some crispy bacon (apologies to the vegetarians).
You can change the flavor by changing the bread crumbs and herbs. I used a gluten-free focaccia the first time around, and then a sourdough for the second test. You'll need to adjust your oil, salt and spices depending on the bread you select and the tomato. The heirloom I used is lighter on the acidity level than most reds so lighter spices and breads work well.  I selected a local hard cheese (Calvander/Asiago from Chapel Hill Creamery) and the Chardonnay Oak Barrel Salt from Savory Spice which has just a hint of smoke to it.
I've made some adjustments to the base recipe. I cut back on the shallot and garlic because the lighter orange plum tomatoes are easily overpowered compared to traditional red plum tomatoes. We sampled a red "Long Tom's" plum at the North Hills Midtown Farmers' Market last weekend, and their delicate flavor and firm flesh would be lovely with this recipe as well
Baked Heirloom Plum Tomatoes

Ingredients
6 ripe  heirloom plum tomatoes
1 cup fine breadcrumbs made from local bread (adjust the herbs depending on the bread type)
1/3 cup finely grated hard aged cheese
1/3  cup of fresh herbs like thyme, rosemary, parsley; whatever you like and have on hand. (basil can burn, so maybe save that for topper as you serve)
1/4-1/2 teaspoon minced garlic or finely chopped shallot
1 tablespoon olive oil
1/4 teaspoon Chardonnay Oak Barrel salt (bread may be salty, so adjust)
1/8 teaspoon fresh ground mixed peppercorns
Preparation
Preheat the oven to 350F.
On a baking sheet lined with parchment paper, spread out the bread crumbs and lightly toast them in the oven. This takes less than 5 minutes. Do not brown them, just dry them out a bit.
When they come out, mix them with the olive oil, shallots/garlic, herbs and cheese, salt & pepper
Wash and dry each tomato
Slice each tomato lengthwise. You can scoop out a bit of the center seeds and juice if you like. I did to make some room for the topping, but it's not necessary. Place each half on the baking sheet with the parchment paper.
Evenly divide and top each half tomato with the bread crumb mixture.
You can drizzle additional olive oil on top of each tomato at this point, or simply watch the baking process so you don't burn the topping.
Bake for about 30 minutes. The longer you bake, the softer the tomatoes will get. I prefer mine firmer for market samples, but you can bake these up to 45 minutes if you closely watch the topping. Riper tomatoes will take less time and be more flavorful.
Notes
These will store for a day or two in the fridge. I haven't tried storing them in the freezer this way.
I am running a test on using previously frozen heirloom tomatoes for this recipe and I'll let you know how that turns out in a week or so.