Right before I headed up to Boone to see the Solar Homestead last week, I visited the farmers' market to pick up a few things for my trip. I was surprised to find the first of the shiitake mushrooms, delicately tucked inside of bags, ready to take home. Totally irresistible!
Earlier in the week, I picked up a local chicken and had some broth left from cooking that I used to prepare the quinoa. The broth tones down the nutty taste of the quinoa and allows other flavors to take center stage. You can also use vegetable broth. I have yet to try beef broth, but that's next on the list along with some caramelized onions.
Using a small saute pan, I quickly cooked strips of shiitake mushrooms in an equal mix of olive oil and butter so there would be a little browning action. I also added a small minced shallot that I had from the market along with some broken pieces of  pecans.
The spinach was  from a batch I steamed in the spring and put in the freezer, but it should be fresh in the market again soon.  After thawing, and chopping the spinach, I warmed it in the saute pan at the end with the quinoa. The shredded cheese is local Chapel Hill Creamery Thunder Hill Swiss, but it's just a topping and you can eliminate it  or change it to something else.
This is a meal in itself with the quinoa and pecans providing protein and a mix of vegetables but it would be great served next to poultry, meat or pork. This recipe is better warm or at room temperature rather than chilled.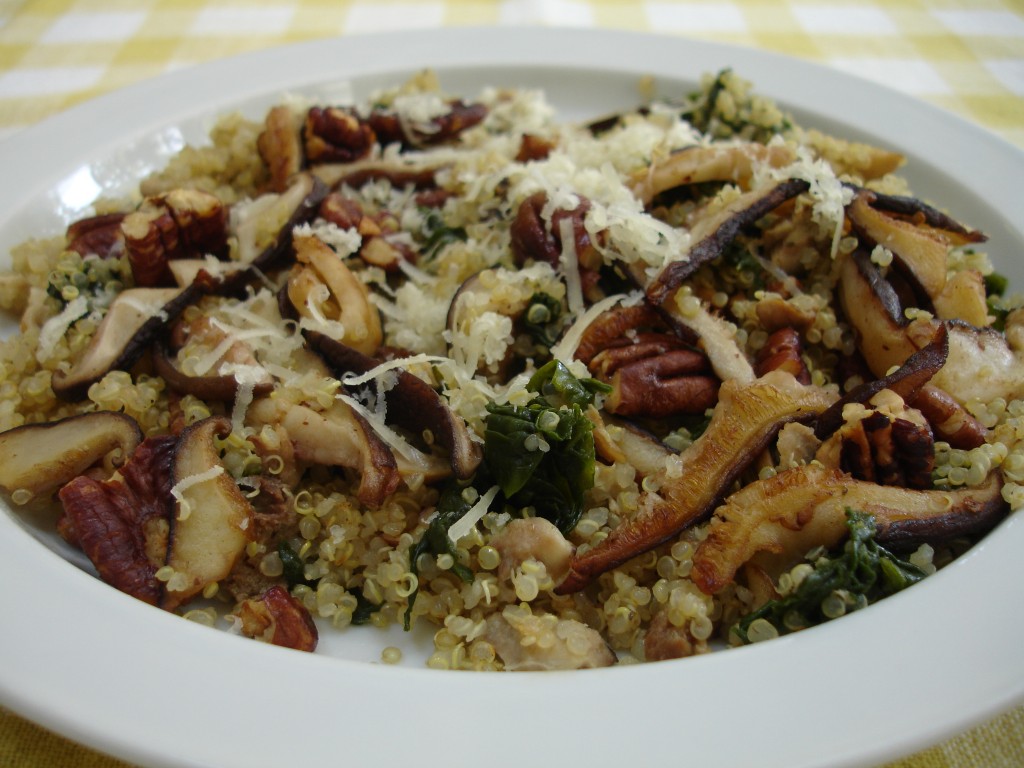 Quinoa Salad with Shiitake Mushrooms, Spinach & Pecans
Ingredients
1 cup of cooked quinoa
1/4 cup steamed spinach (about 1 1/2 cups raw)
2 medium fresh shiitake mushrooms (1 1/2 oz with stems) sliced 1/8″ wide
1 teaspoon minced fresh shallot
1/4 cup large broken pecan pieces
Pepper and Salt (Chardonnay Oak Barrel Smoked Salt is especially good in this recipe)
Preparation
Prepare the quinoa according to directions. Using chicken or vegetable broth will mellow out the flavor a bit. Set aside.
Chop the steamed spinach. If you are using fresh, rinse and dry it. Chop it up and you can add it at the end and it will cook very fast. Mix into the quinoa and set aside.
In a non-stick pan heated to medium-high, add 1 teaspoon butter and 1 teaspoon olive oil. When it's hot add the sliced shiitake mushrooms, shallots and pecans. Stir to coat everything and continue to cook on a medium-high heat until the mushrooms are slightly browned. This takes about 2 minutes.
Working quickly, add in the quinoa and spinach. Add a pinch of pepper and about 1/4 teaspoon of salt.  Continue to cook for one additional minute until the quinoa is toasted and some moisture is removed.
Serve and top with shredded cheese.