This week I had two elementary school events with Advocates for Health in Action. In a sea of fast food restaurants and busy schedules, it's always a challenge for parents to make sure their kids are getting nourishing meals and healthy snacks. And don't think that challenge stops once your kids leave for college. There are as many questions about meal planning from college students at the farmers' markets as from parents. So I'm going to post a few ideas and recipes in the upcoming week that are really flexible and you can modify to fit your needs. I would love to hear how you decide to adapt the recipes.
First up is Roasted Chickpeas. There are several recipes on-line for roasted chickpeas and they vary from spicy to sweet. If you are trying to cut your food bill, dry beans are a great way to take your cost down significantly in a recipe like this one. Raw pumpkin or sunflower seeds are also inexpensive and easy to find in bulk. Beans are very easy to make and a bag normally cost just a dollar or two, compared to cans that can cost five times as much for the same volume. Most of the time I use a quick soak method where you cook the beans for 2-5 minutes and let them stand covered for an hour. Then you cook them for 10-45 minutes depending on the bean.. There are always directions on the bag and that's what I follow unless a recipe has some specific notes. Drain and rinse your cooked beans one more time, and you're set to go for most recipes. Cheap and easy!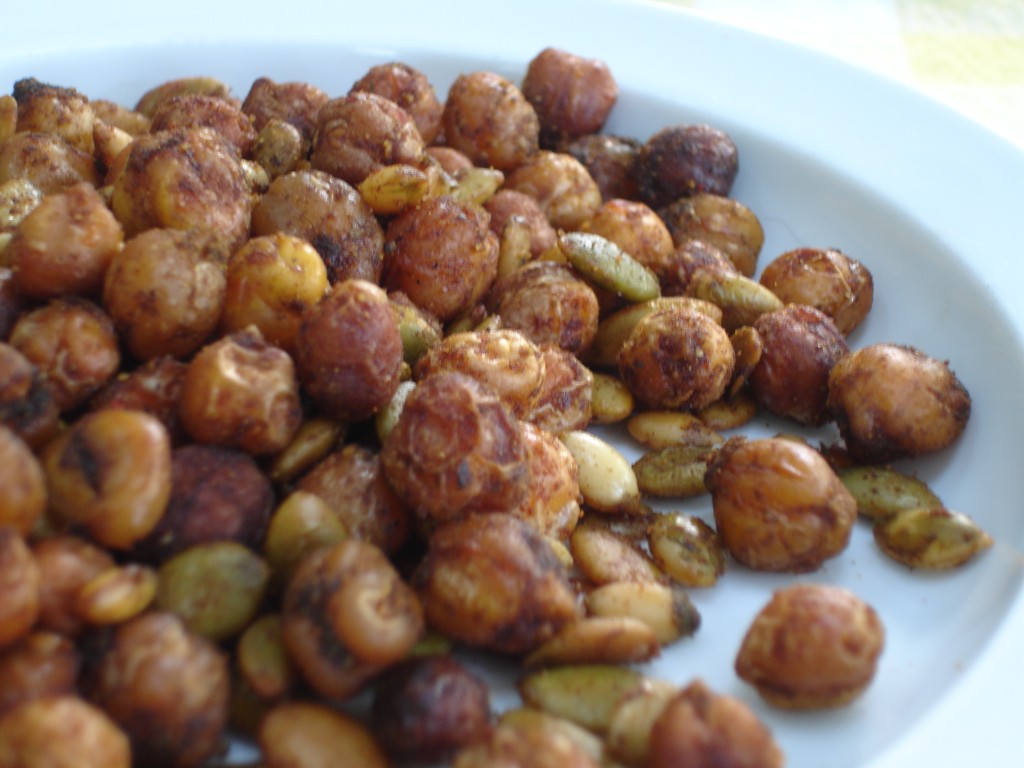 Roasted Chickpeas & Pepitas
Ingredients
Preparation
Mix the dry spices together with the olive oil.
Toss the olive oil spice mix with the chickpeas and pumpkin seeds and coat well.
Place the chickpeas and seeds on a large baking pan covered with aluminum foil.
Bake at 400F for up to 30 minutes, mixing them around every 10 minutes to keep them from burning.
Depending on the amount of time you roast these, they will get more or less crunchy. They also harden more as they cool.
Notes
If you prefer the chickpeas softer, leave the olive oil mixture on the chickpeas for 15-30 minutes before baking.
If you like the chickpeas crunchy, mix the oil, spices and chickpeas and roast right away.