Sweet potatoes are one of my favorite foods in the fall. You can use them in sweet treats to replace sugar or other veggies like pumpkin or butternut squash. And they are excellent in savory and spicy dishes with African and Indian spices. They keep a long time before you need to cook them, and they freeze well once they're baked. What isn't there to love?  And best of all, they come in both orange and purple so they are PERFECT for Halloween treats!
This recipe started with one I picked up at the "Honey Buzztival" at the Raleigh Downtown Farmers' Market this summer. I've added a few things to the original.  There were great samples from all of the vendors and recipes all over the place from the market staff. I think you'll need a mandoline to make these. It's really impossible to get even slices without one and the broiler time is so critical that you need that level of accurateness. I also used my dehydrator set pretty high to finish drying these out so they would be more crispy and hold for a couple of days. I promise not to post too many of these kinds of demanding recipes, but this one is really fun and something you can do with the kids, given the right kitchen tools.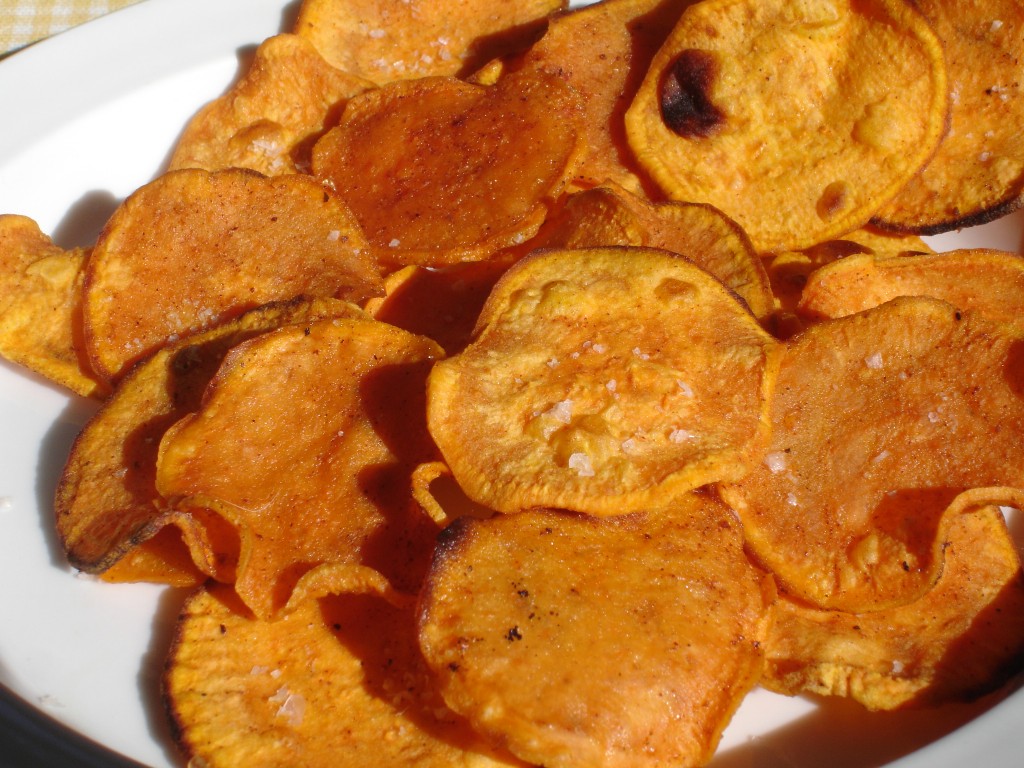 Honey Glazed Sweet Potato Chips
Ingredients
1 – 1/2 lbs sweet potatoes scrubbed and peeled
1 tablespoon melted butter
1 tablespoon olive oil (mild or medium flavor)
1 – 2 tablespoons honey
1/2 teaspoon ground Vietnamese cinnamon
1/4 teaspoon ground nutmeg
1/8 teaspoon ground ginger (or 1/8-1/4 teaspoon minced fresh if it's in season)
1/4 teaspoon pink Himalayan sea salt
1/4 – 1/2 teaspoon Murray River Flake Salt for finishing
Preparation
Mix the butter, olive oil, honey, cinnamon, nutmeg, ginger and pink sea salt together in a large bowl.
Working quickly,using a mandoline, slice the sweet potato just a tad under 1/8″ thick and put them directly into the mixture.
Coat all of the slices well and place on a baking sheet (in one layer, without touching )that has been covered with parchment paper.
Broil on second or third shelf down from the broiler (set on high) for about 5 minutes.
Watch them cook the entire time because they burn quickly. You will see bubbles as they cook in the middle and browning on all of the edges as they get close to being finished on the first side.
Pull the baking sheet and turn all of the sweet potatoes over. Quickly sprinkle a little bit of the Murray River Flake Salt on the top of each chip.
Place under the broiler for 2-3 minutes more until they are golden.
Finish in the dehydrator for about 4-6 hours at 145F. Time varies depending on relative humidity.