In the fall, I'm obsessed with winter squash. They exhibit all the beautiful colors of the trees and are so versatile for cooking, or in this case, not cooking. My only regret about these beauties is their tough outer layer. I'm not fond of wielding a large knife to get these guys open. A while back I discovered an OXO serrated peeler. It's an awesome tool to skin the outside of a butternut squash so you eliminate rough tactics to pry it open.  I served this salad at the North Hills Farmers' Market this past weekend. It was a little chilly Saturday but the entire container was gobbled up by the die-hard shoppers that came to visit all the local farmers.
This salad is quite simple and you can make it a day ahead of time. It needs to be dressed right away so the apple pieces don't turn brown and it's important to select a nice crisp apple that is sweet but not too juicy. I used a honey crisp this week. The dressing provides the tart flavor so your apple and butternut squash are going to provide most of the sweet. At the market I didn't have the toasted pecans or pepitas in the salad, but I think they add a great deal of texture and flavor to the salad after working with the recipe more this week.
You can vary the dressing on this recipe. I tend to like more acidic dressing and this one doesn't use any oil; you won't miss it at all. The Murray's River Salt is bright and light compared to many plain sea salts. It's a little brighter in flavor than the Pink Himalayan which is why I like it in particularly well in this salad.  In the dressing, it will help weep some natural juice from the squash and apple as it sits but it doesn't become overly watery or salty. The maple syrup flavor holds up well in the salad without being overly sweet.
Your choice of white balsamic vinegar and your mustard will also change the flavor slightly. A flavored vinegar like white mixed with pear would be fun to try in this recipe, or you can just add some crisp Asian  or heirloom pear pieces! I also happen to really like mustard, but you will probably need to cut back a smidge on the mustard as you increase the volume of this recipe.  A little goes a long way, especially if you plan to make it a day ahead of time and let the flavors develop. You can also use a local variety or make your own mustard. I'll be adding some notes to the recipe over time as I test out some new products available locally.
This recipe is sized for two people. Doubling it is straight forward, but if you plan to go larger you'll need to taste your dressing before you use it and make sure it's balanced for your taste buds.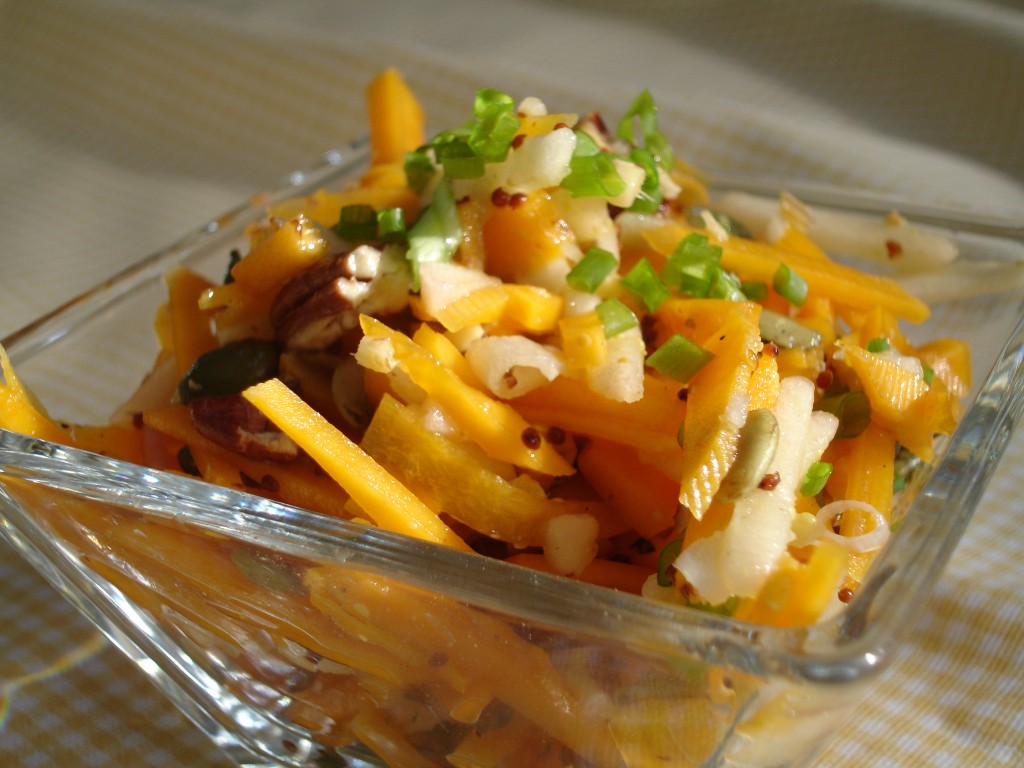 Butternut Squash & Apple Salad
Ingredients
1/2 a small butternut squash, skinned (about 4-5 ounces finished)
1 small crisp sweet apple, skinned (about 2-3 ounces finished)
1 tablespoon toasted pepitas
1 tablespoon toasted pecans, broken pieces
1 tablespoon greens of young green onions, minced (or fresh chives)
1 tablespoon white balsamic vinegar
1 teaspoon whole grain Dijon mustard
1-2 teaspoons maple syrup
1/2 – 1 teaspoon fresh pink ginger, finely chopped
1/4 teaspoon Murray River Flake Salt
2 turns of a pepper mill
Preparation
Mix the dressing first, using the balsamic vinegar, mustard, maple syrup and ginger. Taste it and then add as much or little salt and pepper as you would like and set aside.
Toast the raw, unsalted pumpkin seeds in the toaster on parchment paper or in a pan on medium heat. They should start to pop as they finish toasting. Some will turn light brown, but many stay a shade of green that is slightly paler than their original color. Set aside to cool.
Toast  pecans in the toaster oven on parchment paper or in a pan until they are slightly darker in color and begin to smell toasted. Like the pumpkin seeds, they go from toasted to burnt pretty quickly, so don't walk away during the process until you have a setting you are comfortable using.  Set aside to cool and then break them up roughly with your hands.
Julienne the butternut squash first and then the apple. Quickly toss with the dressing to coat completely. There shouldn't be dressing left in the bottom of the bowl.
As the seeds and nuts finish cooling, add them to the salad and toss.
Before serving, toss the green onion tops into the salad or dress the top. They add too much flavor if they sit in the dressing for a long period of time. But they add just enough change in texture and flavor to be worth a little effort at the end.
Notes
This salad can be made into a slaw by adding some finely chopped baby bok choy, savoy or other mild green cabbage.
Raw sweet potato can be substituted for butternut squash