The rain this year and wild swings in temperatures have been a bonus for broccoli and some of the other early spring crops that love cool weather. They were pushed forward in the growing season with early record warm temperatures and just about the time we all expected it to stay warm, cool weather flushed the state and encouraged these plants to develop nice tight heads and additional side shoots. There's a ton of broccoli and cauliflower showing up in the markets and the color and texture are amazing  this spring.
This week while playing around with this recipe, we added it to an omelette, Quiche and toasted cheese sandwiches. I know I seem to be on a pesto kick, but ever since Jason at Edible Earthscapes suggested using sorrel as a lemon replacement, I've been experimenting. (And by the way – he's got a recipe for Cilantro Pesto) I need to admit, it was his grilled cheese sandwich idea that got me going, but this stuff is wonderful on pasta and it's amazing teamed up with eggs.  And the great thing about pesto is the ability to freeze it in small amounts and pull it out anytime. So there's that "second harvest" theme going for this recipe, too.
I've tried this recipe 3 ways so there are a couple of notes at the end. Alter it to suit your taste buds as well as your location, since I try to find all local ingredients for my recipes. I'm cheating a little on this because I can get the walnuts from a couple of private farms in Western NC. Local pecans will work well and they are plentiful from last year's crop and they will be a little sweeter by nature. Just keep them in your freezer until you are ready to use them.
The only thing I want to note here up front is that I've used a scale extensively in this recipe. The reason is that depending on how finely you chop your veggies or grate your cheese, the measurement can be off significantly when you're working with a recipe like this. And that changes the flavor quite a bit when you're working with some ingredients. So to be the most accurate in this one, I've got two measurements for you. It's adaptable and forgiving so don't fret if you don't have a scale. At home I use a little inexpensive OXO battery operated scale. They last for years so I feel like it's worth the investment and helps to make your recipes a little more consistent over time, especially some of the older recipes you might have handed down in your family.
This recipe makes enough to feed several people sandwiches, create a half-dozen omelettes, make a good size bowl of pasta for a family, or to have a couple of small containers extra to throw into your freezer for later.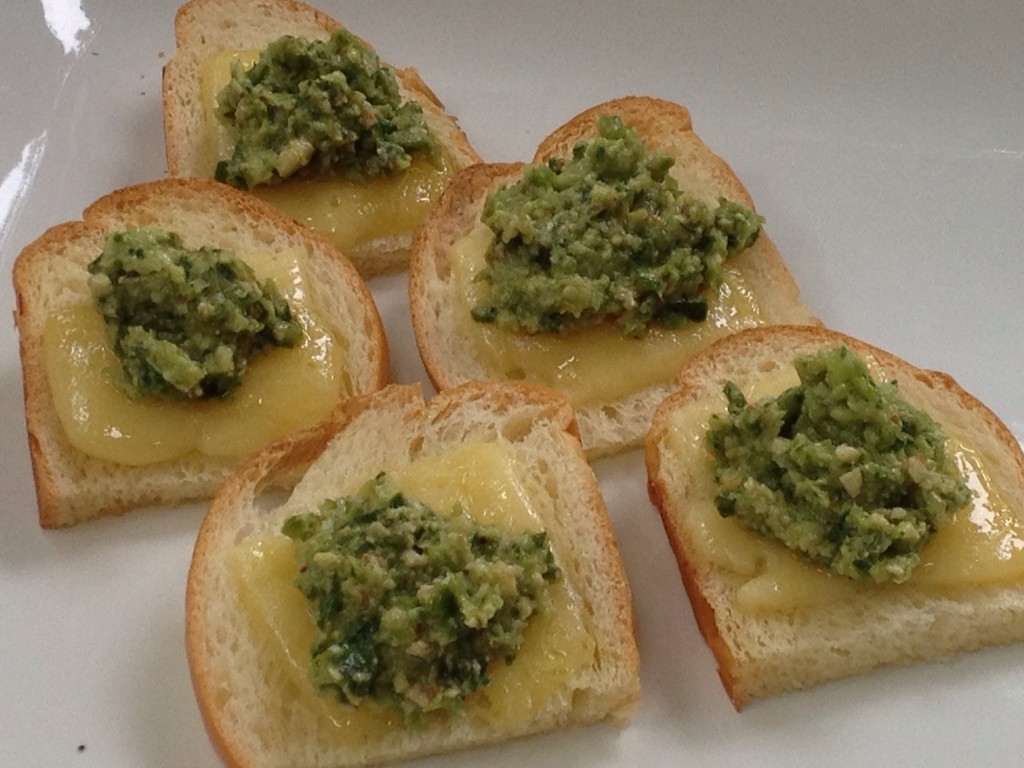 Spring Broccoli Pesto
Ingredients
1 ounce broccoli stems ( 1 1/2 cups), cut into small pieces, very  lightly steamed
3 ounces broccoli florets (1/3 cup), cut into small pieces, very lightly steamed
1 tablespoon green onion, finely chopped
1 teaspoon green garlic, finely chopped
1/2 ounce walnuts or pecans (1/6 cup), lightly toasted
1/4 ounce Chapel Hill Creamery Calvander cheese (1/6 cup), grated
1/4 Chapel Hill Creamery Hickory Grove cheese (1/6 cup), grated
1/8 ounce sorrel (2 tablespoons), chopped
Preparation
Chop the green onion and green garlic to 1/2″ or less sections. Chop the sorrel. Set aside.
After you wash and cut up the broccoli, lightly steam the stems and florets separately. The stems will take about 2-3 minutes, the florets about 1-2 minutes. They should not be cooked all the way through. They will turn a very lovely bright green color with the light steam and hold this color in the pesto. If you cook them all the way through, they will darken in color and the texture and flavor will change significantly. Chill these immediately if you do not plan to finish the recipe right away because they will continue to cook for a few minutes as they are cooling.
Put all of the ingredients into a food processor and blend until you reach the puree that you prefer. This is just going to take a minute or two. For a smooth texture, run the processor for about 2 minutes total, pulsing it on and off. The ingredients come together quickly as you blend. Once they come together, you will just need to run the processor another minute at the most.
Notes
In this recipe, unlike the Asparagus Pesto, the sorrel tended to taste more bitter the more you added. But the recipe needs a bit of lemon to brighten it up, so you might also try lemon verbena or just a bit of lemon juice if you don't have sorrel.
Himalayan salt seemed to work best in this recipe. The Murray River Flake Salt seemed a bit bright and the Chardonnay Oak Barrel Smoked Salt worked fine, but didn't bring out the broccoli and didn't seem to enhance the cheese as well as the Pink Himalayan.
If you decide to change the cheese, the Calvander is an Asiago style, but go with less of this and more of the creamy type melting cheese like Hickory Grove. Think Broccoli Cheese Soup here. You will taste the Asiago in the front of your mouth, but you'll remember the creamy cheese all the way through the bite.