We're rolling into June and while strawberries seemed like an appropriate fruit to highlight for Mother's Day in delicate cookies, blueberries seem like a Father's Day fruit to me and what better breakfast could there be for Dad than pancakes?
I've made ricotta pancakes before and while I love the creamy texture that the ricotta adds, I have to admit they are not as much of a favorite in the house as my standard Buttermilk Pancakes. But these are a little different with the use of yogurt instead of buttermilk. And while we're on the subject of buttermilk, just a word of caution. I use local dairy products except in the case of buttermilk. The closest dairies to me use gum-gar and other additives to the buttermilk which produces an off-flavor and a sticky texture to the pancakes. So I use Organic Valley brand buttermilk when I need it, or I make my own with some vinegar or just add a little yogurt for the tangy taste. Any of the three work just fine.
This recipe makes a small batch, good enough for 2-3 people. Don't be tempted to make big pancakes. The ricotta makes a delicate creamy pancake which doesn't cook evenly or flip well when you make it huge. Stick to a 4″ diameter or smaller and you'll have no problems at all. I have used both a Le Creuset Non-stick 8″ skillet as well as a small cast iron skillet, both on low once they are heated. Butter in the bottom of the pan, just a little goes a long way. The pancakes will release nicely when they are cooked through on the first side, before the flip.
Trying to make these a totally local item, I've used Calico Farmstead Cheese whole fat ricotta, local honey (I have 5 local apiaries in the cabinet at the moment), lemon verbena leaf to replace lemon zest, local butter & milk, sustainable blueberries that I picked in Chatham County, eggs from a local organic pasture farm, and Lindley Mills organic flour. We sell the ricotta honey & lemon  blended cheese through the company in small quantities if you want some for this recipe or for your french toast sometime.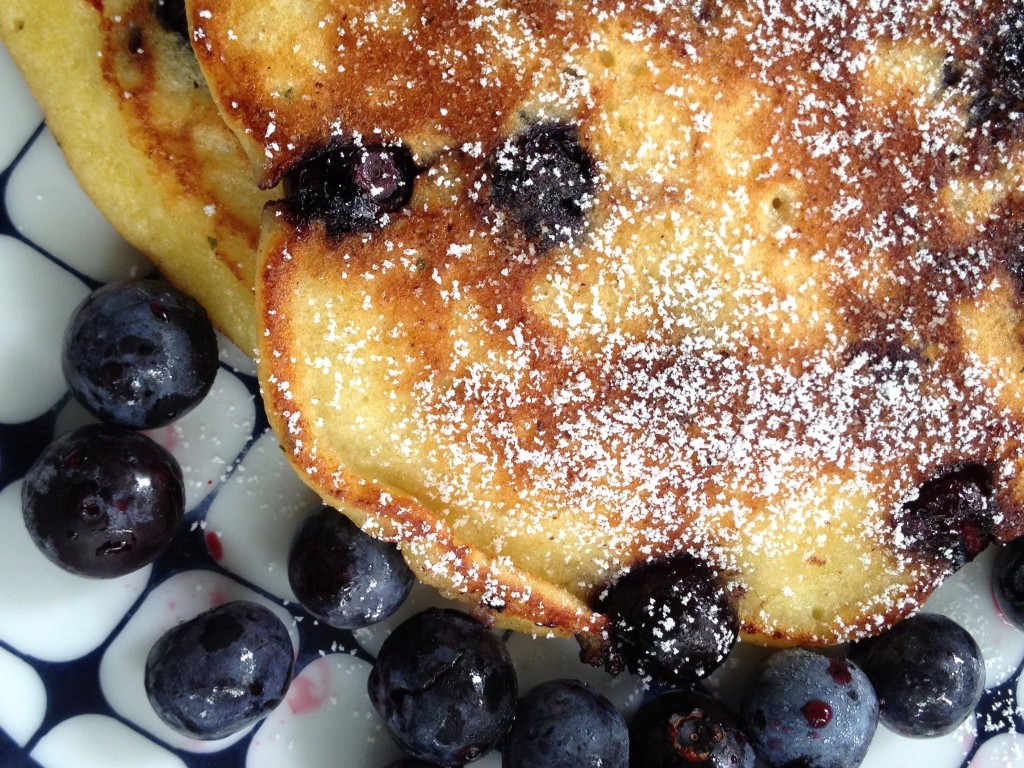 Blueberry, Lemon Verbena & Ricotta Pancakes
Ingredients
1 cup fresh whole-milk ricotta cheese
2-3 teaspoons honey
2 small lemon verbena leaves, finely chopped (substitute 1 teaspoon finely grated lemon zest)
1/3 cup plain Greek organic yogurt
2 med-large eggs, separated
3/4 cup organic all-purpose flour
1 1/2  teaspoons baking powder
1/4 teaspoon salt
1/4 teaspoon baking soda
3/4 cup whole or low-fat milk
12 oz thawed or fresh whole blueberries
Preparation
Blend the ricotta, honey & lemon verbena together.
Add the yogurt to the ricotta mixture.
Separate egg yolks and whites. Add the egg yolks to the ricotta & yogurt. Whisk to blend well.
Add the milk to the ricotta mix and blend well.
Add whites to small bowl and whisk until small peaks form. A balloon whisk works well. Set aside.
 In another bowl whisk flour, baking powder, salt and baking soda.
Add flour mixture to yolk mixture and stir until combined.
Gently fold in the stiff egg whites to the batter until barely combined.
With a warm griddle coated with a little butter, pour about a 4″ diameter pancake and gently drop blueberries into the pancake. If you push them through to the bottom of the pan, they will show through both sides, otherwise they will only show through one side.
Cook on low-medium heat until small bubbles start to form and the cooking side has turned a golden brown color.
Flip when the pancake is firm enough to hold together without spilling (it will be about 3/4 of the way cooked through). Finish cooking until golden and serve with honey butter or maple syrup.