The chilly mornings are such a delight after a long Southern summer. It no longer seems foreign to be purchasing pumpkins and butternut squash or sweet potatoes & celery root at the market.
Celery root is an odd-looking vegetable and it tastes like a mild version of the celery stalk that you're used to seeing at the grocery store or at the farmers' market. It's a different plant, as I understand from the farmers. You will need to scrub it clean, because like many root vegetables, dirt hides everywhere. Even though you will be peeling off the outside, it's better to start with a clean vegetable. I would suggest using the serrated OXO vegetable peeler for this job. Please remember to be careful as that is not a forgiving tool if you slip and hit your hand.
Like many of my soup recipes, this one is forgiving and once you taste it, you may want to either add some heat with a hot pepper or two, or add some sweetness with coconut milk and fresh ginger. I think it could easily go either way. This takes no time to put together and it freezes really well. It's also delightful chilled in the middle of summer. The other lovely thing about this recipe is that you can roast all these vegetable separately and store them in your freezer that way, and make your soup anytime throughout the winter. Second Harvest Soups are some of my favorites because you can try to mix and match whatever is left in your freezer near the end of winter to make new combinations and variations.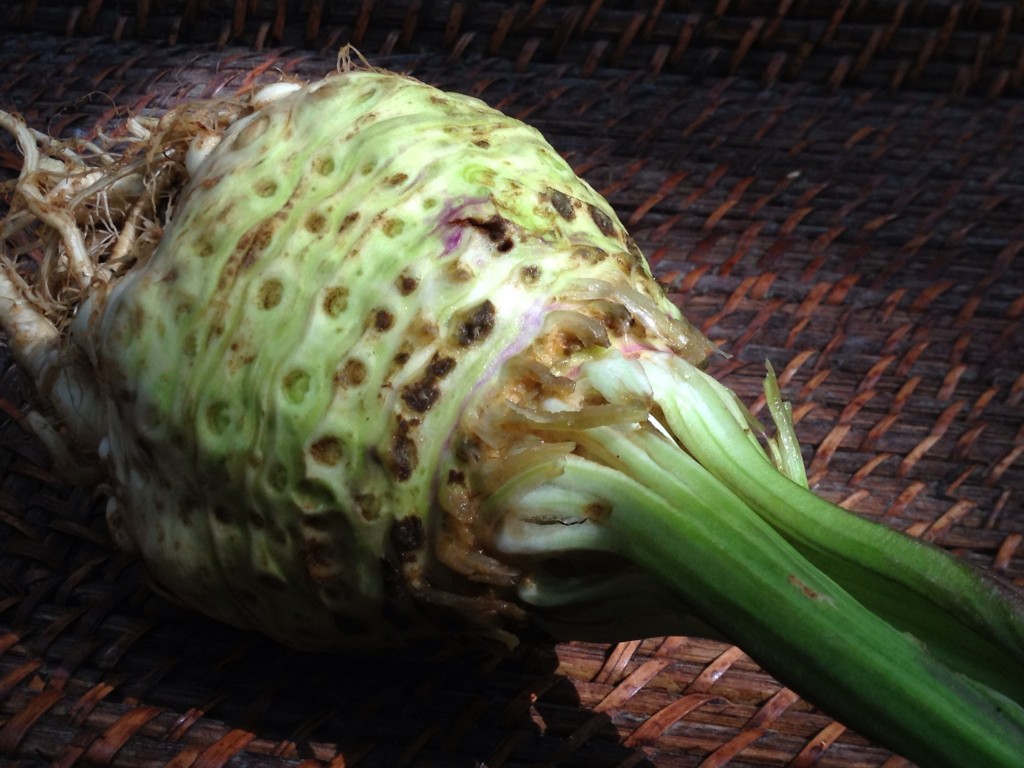 Celery Root & Sweet Potato Soup
Ingredients
1 pound raw sweet potato (peeled)
1/2 lb raw white turnips (washed and stemmed)
1/2 pound raw celery root (peeled)
1/2 pound raw sweet onion (peeled)
1 teaspoon chopped (roasted or raw) garlic
1/2 – 1 teaspoon thyme
1 teaspoon Himalayan salt
1/4 – 1/2 teaspoon mixed ground peppercorns
1/2-1 teaspoon Chardonnay Oak Barrel Smoked Salt
1/8 teaspoon nutmeg (do not use allspice)
1/4 cup olive oil
32 oz vegetable or chicken broth
Preparation
Slice the peeled sweet potato, white turnips, celery root and onions thinly.
Warm a large pot (Dutch oven or large heavy-duty stainless or cast iron casserole) on low/medium and add olive oil when the pan is warm. Let the oil warm just a minute.
Add the sliced sweet potato, white turnips, celery root, and sweet onion.
Add the Himalayan salt and the ground pepper. Stir to coat the vegetables. Add a lid and bring up to a low simmer so the vegetables begin to brown.
Cook for approximately 15-20 minutes until the vegetables are tender. Add the garlic, nutmeg and Chardonnay smoked salt. Simmer a couple of minutes until the garlic is lightly cooked.
Add the broth and bring back to a low simmer. Cook 15 minutes with the lid on.
Add the mixture to a food processor or blender and puree until smooth. Adjust for salt & pepper.
Notes
Several recipes online suggested using coconut milk instead or in addition to broth. Ginger would work well with the addition of coconut milk and maybe eliminate the nutmeg. And this mix might work well with a bit of heat from some local chilies or a dried powder.
Other recipes suggested the use of fennel and apples in additional to the current vegetables.