La Farm Bakery always has samples of their wonderful bread each week at the Raleigh Downtown Farmers' market. This week I noticed  White Chocolate Baguette samples and got coaxed into trying them. These would make an excellent breakfast treat as French toast paired with fresh fruit and local honey.  But then I thought about the texture and decided to try to make individual bread puddings that I could use for brunch on Sunday.
It's always nice when a recipe comes to together quickly and works the way you expect. This one is fairly forgiving and flexible regarding the amount of egg and fruit. I can imagine it would work well with spring and summer fruit like strawberries, blackberries, raspberries and peaches and both pecans and almonds. Make sure to select a light honey that highlights the summer fruit and white chocolate well.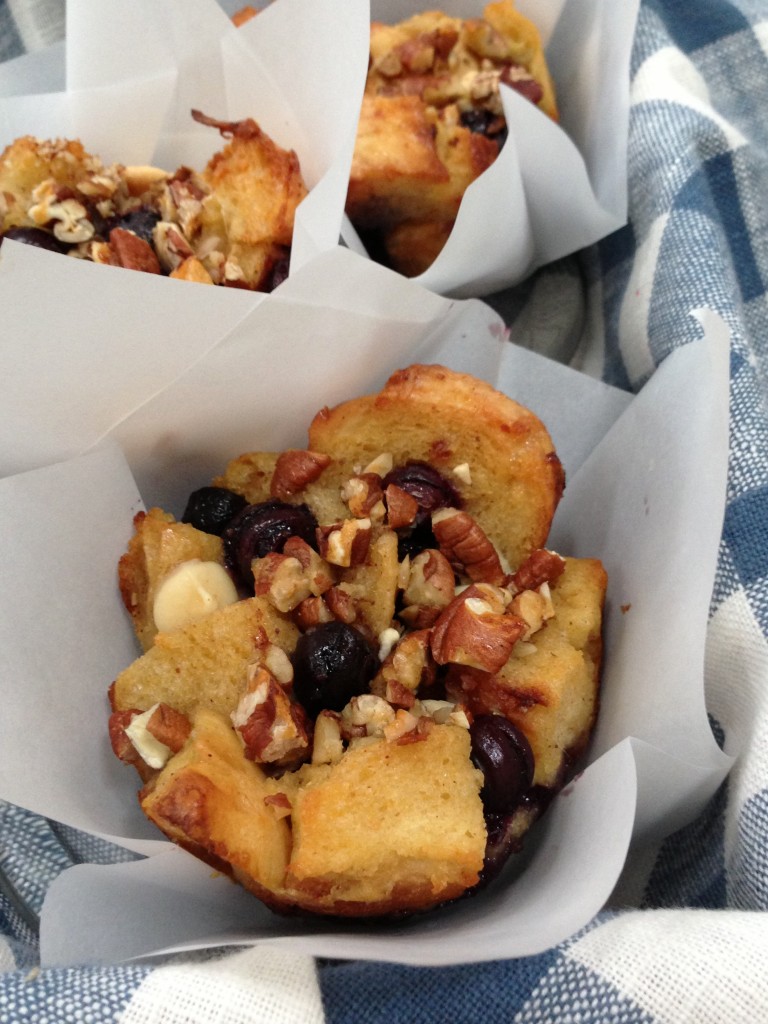 Blueberry & White Chocolate Bread Pudding with Local Honey & Pecans

Ingredients
2 La Farm Bakery white chocolate baguette (8 oz)
2 large eggs (3 pullet eggs)
1/4 cup half / half (whole milk or cream will work)
1/4 cup honey (Just Bee Apiary – Carrboro variety which is light)
1/4 teaspoon nutmeg
1/4 teaspoon cinnamon
2 tablespoons butter, melted
1/16 teaspoon Himalayan salt
1/4 cup white chocolate chips (Available Products)
3/4 cup fresh blueberries (4 oz)
1/4 cup toasted pecans, rough chop
Large Tulip Baking Cups (2 x 3.5″)
Tin for large/deep muffins
Preparation
Beat the eggs with the half & half, nutmeg, cinnamon and honey in a large bowl.
Cube the baguettes roughly into 1″ pieces and add to the egg mixture.
Toss the mixture together until the bread is well coated. Let sit for about 5-10 minutes. Most of the liquid should be absorbed.
While the bread is sitting, melt the butter and add the salt. Using a pastry brush, lightly coat the inside of the paper parchment cups.
Gently push pieces of bread into each of 4 parchment cups to form a base. Add a few blueberries to each cup and about 3 white chocolate chips. Add another layer of bread, blueberries and white chocolate chips. Repeat the process one last time and top with a few chopped toasted pecans.
Use any remaining egg mixture to each of the four cups.
Cover the parchment cups with a layer of parchment paper to keep from burning.
Bake at 350F for 25 – 30 minutes.
Notes
Other locally baked breads that are fairly dense and a little sweet will work with this recipe like sweet rolls or sour dough based breads. Bagels may need to be soaked for an additional 5-10 minutes to absorb a little more egg mixture and would not be a first choice. Croissants will require less time or they will fall apart when you go to push them into the parchment cups. Bread that is more crumbly like Banana will not work in this recipe.