The thunderstorms from earlier in the week subsided on Saturday so it did get a tad warm even under the tents and canopy of the Whole Foods store in Chapel Hill as we all gathered for the first 'Homesteading Fair'. This was one of a number of community events the store hopes to hold in the future. As inquisitive customers & kids went in and out of the store, they were treated to samples and discussions about preserving food, helping pollinators, water conservation and composting, along with managing back-yard chickens. There were plenty of samples to taste, herbs to plant and even a pop-up shop full of great cook books!
At the Tarheel Foodie tent I was welcoming bees that Marty Hanks had summoned just for the occasion. They were helping clean up after my honey spills and delighting the children that stopped by to sample smoothies. Marty had one of his bee keeping coveralls and head gear available for the kids to mess with, along with samples of honey from his own hives and some from the North Carolina Mountains. The most fascinating was the 'cotton honey' because the texture and flavor were close to 'creamed honey'. But the flavor was quite different from creamed honey. It had a subtle sweetness and was less grainy on the tongue. Something worth trying if you get the opportunity. We used the #JustBeeApiary "Carrboro Hometown Honey" in the smoothies on Saturday but I encourage you to try all of the different honey that Marty produces, because each one has a different flavor and viscosity depending on the flowers and vegetables that the bees were harvesting pollen from in their area this year. And that changes year to year.
The Pumpkin Pie smoothie is a variation of one that I made with the HomeFries Cooking Class at the Durham Farmers Market a week ago. This is a smoothie that I drink a lot during the summer because it's a great way to include more vegetables and fruit in my diet when the temperatures soar above 90 and it cleans out any leftover veggies from the prior year's crop that I've saved. This recipe can be frozen into freezer pops using coconut milk as the liquid base. Coconut water tends to create more ice crystals in the popsicle so adjust the recipes with that in mind.
Since I use a standard size bar blender most days, these recipes are designed for two large servings. They will be more creamy if you use a higher powered blender, but they are designed to work in an everyday blender. If you're using a little bullet-type blender, cut the ingredients to half so it fits into your container. All of the ingredients should be chopped to at least bite-size chunks. I find that chopping the winter squash and fruits well or blending them and then placing them in quart size freezer bags makes it very easy to break off chunks into the blender that mix well without taxing the blender motor as much. It's a bit more difficult to get the fruit and veggies out if they are stored in round or square containers because they bind up together as they chill. The colder your veggies and fruit, the more frosty and thick your smoothie will turn out. And it's possible to freeze the coconut water and coconut milk in ice-cube trays and then store the frozen cubes until you need them if you plan to use all fresh fruit or simply refrigerated veggies and fruit.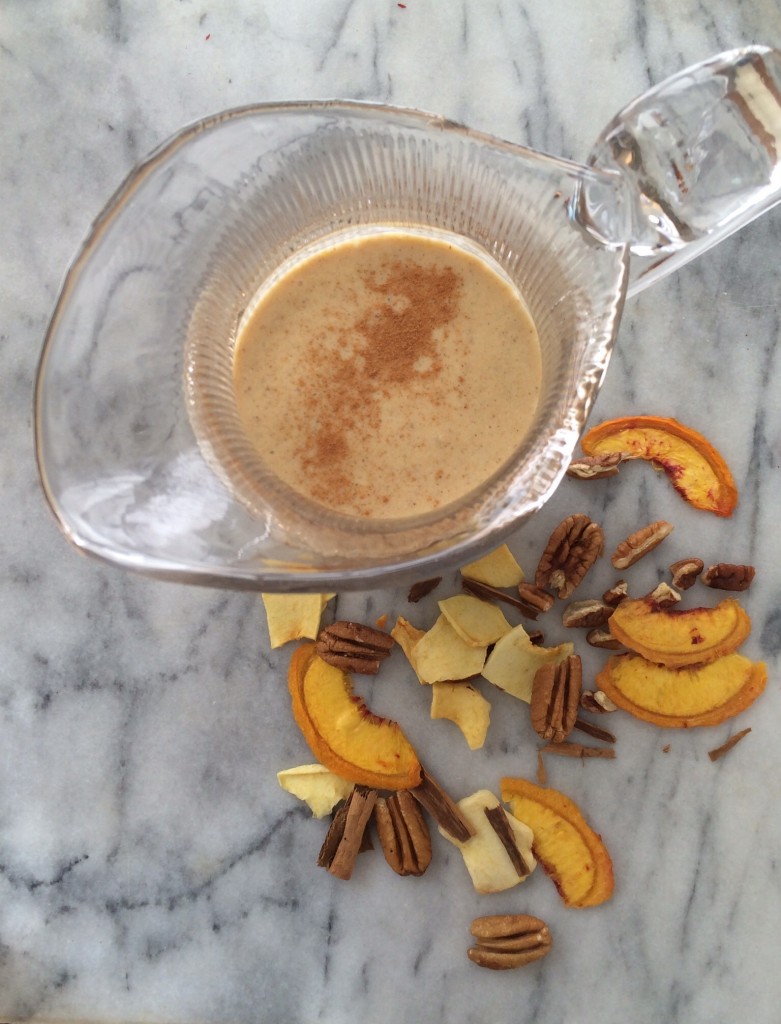 Pumpkin Pie Smoothie
Ingredients
1 cup roasted chopped winter squash (butternut, acorn, pumpkin)
3/4 cup chopped frozen or fresh cantaloupe
3/4 cup chopped frozen or fresh peaches (or 1/4 cup dehydrated peaches)
1/4 cup raw chopped carrot (1/3 cup roasted frozen carrot)
1/4 cup apple (1/8 cup dehydrated apples)
1/4 cup chopped raw pecans
1-2 teaspoons Pumpkin Pie Spice (no sugar or salt)
1/8- 1/4 teaspoon ground cinnamon
1/4 – 1/2 teaspoon real vanilla extract or vanilla powder
2-3 teaspoons sorghum syrup or honey (or combination)
1 1/2 – 2 cups coconut milk or kefir
Enough coconut water or other liquid to thin to your preference
Preparation
In a standard bar blender, add the coconut milk or kefir first so the blades of the blender can turn.
Add the frozen melon and peaches next because they are less dense than the winter squash.
Add the raw carrots, nuts, spices and sorghum.
Add the frozen winter squash.
Pulse blend to incorporate the ingredients to a rough state. About a minute.
Bring the blender up to a higher power and blend until the smoothie is creamy.
Variations
Roasting the winter squash in olive oil with a bit of salt brings out the flavor more
Substitute roasted sweet potato for winter squash
Yellow Doll Watermelon can be substituted for cantaloupe
Use less kefir or coconut milk and more coconut water to make thinner version
In a pinch you can add a couple of tablespoons of your own sweet potato butter for more concentrated flavors, remembering that this will also raise the glycemic count significantly without as many trace minerals as the sorghum or honey.