Adapted from DinnerwithJulie.com & Gourmet 2001 recipes.This recipe is simple & flexible; it doesn't make a lot at once. You can change it up with your favorite ingredients. Use what's on hand or go out and buy some special treats like infused maple syrup, local honey, home-dried apples & pears or hand-shaved chocolate to put together a great gift.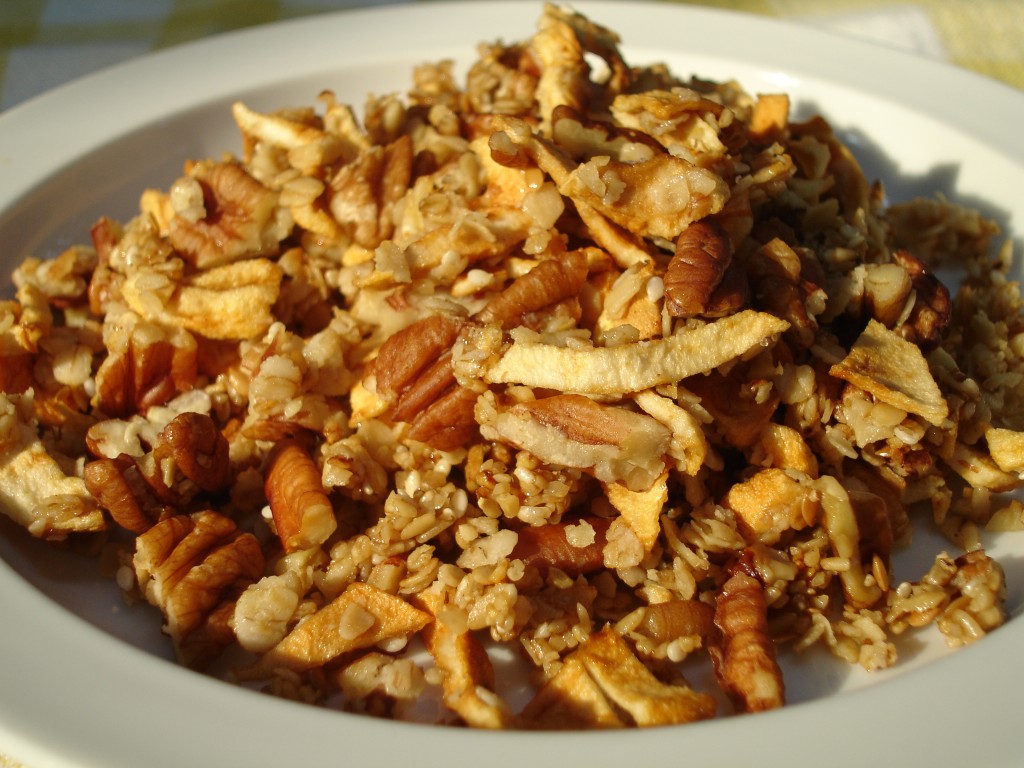 Skillet Granola
Ingredients:
1 cup Quick Oats (organic)
1/4 cup sesame and/or flax seeds
1 teaspoons unsalted butter
1/2-1 teaspoon coconut oil
2-4 Tablespoons honey: adjust to your taste
Pinch of salt (less if you use salted butter)
1/4 cup chopped toasted nuts
1/4 cup dried unsweetened fruit
Optional – shake of cinnamon, dark chocolate chips (need the contrast of the dark to the sweet honey), or substitute pure dark maple syrup for honey. The maple syrup will "clump" less but work better mixed into pancakes and other foods if you are baking.
Preparation
Put everything together in a cast iron skillet (not the chocolate!) and stir to coat and lightly cook on med-low heat. The quick oats will clump together.  Do not let the heat get too high or the butter and coconut oil will burn (they are low temp oils). It takes about 5 min while stirring to cook all of the oats to a toasty brown color. Let it cool and store in airtight container for up to a couple of weeks. Add any chocolate AFTER it has cooled completely.