This past week seems to have flown by. On the business side of my life, I have been searching for weeks for a commercial kitchen space and I had several leads but working through the certification issues for each one took more time then I expected. Fortunately, there were some incredibly helpful folks at the state government offices I called that were knowledgeable about the process. Then I needed to spend time working on my farmers market demo schedule, deciding which recipes I want to highlight each month and how to include all of the vendors in the process. And then there is my crazy need to participate with non-profit organizations. I have been involved with community work for more than 20 years, but it can be a challenge to keep the time requirements in perspective and still achieve my other goals.
So Wednesday rolled around and I realized that I had simply been eating out of the freezer and needed to cook something "fresh". By now it should be obvious that I like flexible recipes and I like to use stuff that I have put up during the main farming seasons. Chili is a great recipe because it's really hard to mess it up. It can be really healthy if you make sure to drain the fat from your meat and keep an eye on the "additions" at the end. You can also substitute any number of meat alternatives if you start with a good base recipe.
I have three different recipes and depending on what is leftover in my refrigerator and freezer, I choose one and adapt it for the meal. This might not be the way you want to cook, but in an effort to reduce waste and save time, I am mindful of reusing leftovers in new ways and chili allows me some fun opportunities. Sometimes you can't duplicate a recipe exactly cooking this way, but in some cases you will discover a new layer of flavor that you can infuse easily into your existing recipes to make a "family secret" recipe that's all your own just by using a leftover ingredient. That was the case this week when I experimented with the taco beef and my homemade tomato juice in one of my older recipes.
I was reorganizing the freezer and found a half pound of leftover taco spiced beef that needed to get used. Since I had already planned to cook up some spicy local sausage for some other recipes I decided to try to combine the two for a new flavor of chili. I pulled a little of the cooked sausage and threw it in the pot with some frozen caramelized onions; a bit of frozen roasted yellow and red sweet peppers, a few spices, my frozen roasted tomatoes made with roasted local garlic and herbs from my garden; a bit of dry spices and 2 cans of organic mixed chili beans. Voila, dinner in under 15 minutes and all of this except for the beans and some of the dry spices was made with local sustainable ingredients.
Despite the speedy process, the flavor tasted like it had cooked quite a while because the base ingredients were made during the summer with the freshest of local sustainable products that I could find. So what are my 6 must-do's for chili?
1. Your base will be better with an heirloom mix of roasted tomatoes and fresh herbs.
2. Caramelize your onions so they melt into the sauce.
3. Freezing roasted peppers retains color, texture and flavor.
4. Roasted garlic doesn't bite you when you eat it like raw.
5. Organic pastured beef and well-fed sustainable pork have more flavor naturally.
6. Don't over cook the beans. Add them last and just heat them through.
Beyond these tips, you can add any kind of cheese you like to the top of your chili. I enjoy a bit more spice from Ashe County NC Pepper Jack or the Skillet Jalapeno from Guildford County's Calico Farm and I love fresh chopped green onions for color. Keeping with a more healthy diet, I opt for a bit of plain organic Oikos Greek yogurt instead of sour cream because it's a bit more tangy and I think it compliments the chilies better.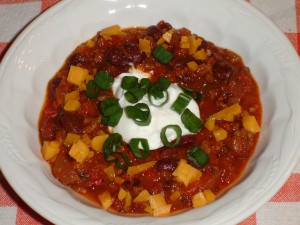 Ingredients:
1/2-3/4 lb ground beef
1/2 packet Bearitos Taco Seasoning Mix
1/2 lb sausage (I use a "spicy" local farm pork mix)
1/2 cup finely chopped sweet onions
1 – 15 oz can roasted tomatoes
1 – 15 oz can tomato sauce
(or 2 lbs home-made roasted tomatoes)
1 tablespoon tomato paste
1 teaspoon roasted minced garlic
1 – 1 1/2 tablespoons raw sugar
2 tablespoons of your favorite chili powder blend
1/2 teaspoon ground chilpolte chili powder
1/2 teaspoon ground aleppo pepper powder
1/2 teaspoon season salt
1/2 teaspoon cumin
1 tablespoon Worcestershire Sauce
1/2 cup salsa
1-2 cans drained and rinsed Organic Chili Beans
Optional :1/2-1 teaspoon dried, or 1 tablespoon fresh cilantro
Optional: 1/4 teaspoon red pepper flakes
Directions:
Decide if you want to use a large frying pan or a large deep pot for the whole process. Either way, you are going to need space to add all of the ingredients. I have used a really large cast iron frying pan as well as a large coated cast iron dutch oven. Both work equally well.
First break up and cook your sausage or pork and drain it. I use a special mix from a local farm but the main ingredient is red pepper flakes so you can add that if you use plain ground pork and some additional hot sauce near the end.
Wipe the pan and continue to cook your ground beef. As the beef is cooking you can add your onions and cook along with the beef. Drain the beef and onions on paper towels when you are finished and return it to the pan. At this point you can add the taco mix to the ground beef / onion mix and add the necessary water and cook for the directed time. (This recipe will turn out fine if you want to skip the taco mix).
Now you will add all of the other ingredients except the beans. You have some options regarding the amount of spice and heat you can use so start with the smaller increments and taste as the base cooks.
When you have it where you want it, add your drained and rinsed beans. You can add more or less of the beans depending on how you prefer your chili.
For the toppings I use low-fat organic Greek yogurt but my family prefers sour cream. I like fresh chopped green onions but many people prefer chopped red or sweet onions. I like  Ashe County Pepperjack or NC Calico Farm Jalapeno Skillet Cheese.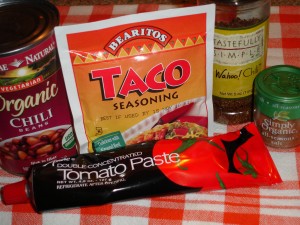 Additional Notes on Spice, Heat & Brands to Adjust your Chili Recipe:
The chili powder mix you choose may add salt and heat so start with the smallest amount. The chilpolte powder will add heat, start small. The aleppo is a mild chili pepper and has more sweet undertones rather than heat, so you can add more of that without adding so much heat.  (This is one of the chili powders I use in my hot chocolate.) The salsa will change the heat as well as the cilantro depending on the brand you choose so start in small increments like a couple of tablespoons and test it as you go.
The cumin and Worcestershire Sauce add flavor but not heat. The cilantro will add flavor but you will need to decide how much you need depending on the salsa you have chosen to use.  The sugar is needed to balance the acid in the tomatoes. I roast my own tomatoes so I need less sugar because I balance the blend of heirlooms with high and low acidity. Most canned tomatoes are plum and you may need more sugar. I prefer the Muir Glen brand of tomatoes over other brands and I use Amore tube of double concentrate tomato paste to thicken the sauce if appears to be too thin.
Chocolate. If you have it around, I normally drop in about a tablespoon of 70% dark chocolate. It will compliment the chilies and you won't notice it at all.