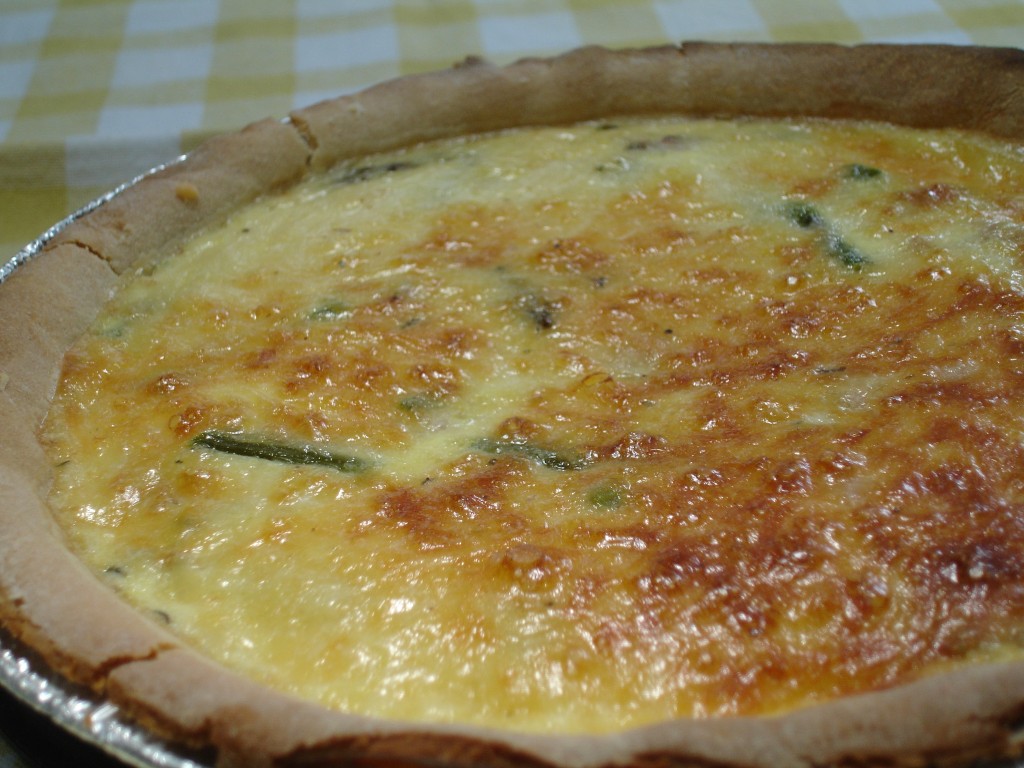 Quiche is one of those foods that most people think is difficult and unhealthy to cook. Granted, most restaurant Quiche is rich with cream and butter, but over the last 25 years I developed a recipe that is simple and quite a bit more healthy. You can use foods that are created locally and sold at farmers' markets to enhance the flavors. This is a flavorful pie that you can have for any meal and add an assortment of side vegetables for any season. Fortunately we are able to get local goat and cow based cheese almost all year-long so it's been quite fun experimenting with both. I'll give you some alternative suggestions in the note section at the end. The only thing that I would caution you about is the size of your eggs. If you buy at the market, the eggs are generally large and ungraded so you will need to adjust the number of eggs if you buy small pullet eggs or large jumbo eggs. If you want a richer pie for a special occasion, you can substitute whole milk or some cream as a replacement to the low-fat milk in the recipe.
Lastly there's the pie shell. Yes, I can make a pie shell; several types in fact. But let's face the fact that if you are short on time there are some excellent alternatives available. I have been using the Immaculate Baking Co. Ready-to-Bake Rolled Crusts which do not use hydrogenated oils. They brown quite a bit faster so you'll need to cover your pie crust with a "Pie Shield" or foil.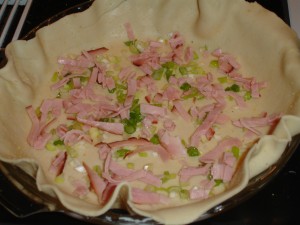 Seasonal Quiche
Ingredients:
1 Pie Crust (Immaculate Baking Co)
5 large eggs (or 8 small pullet eggs)
1 1/4 cups low-fat milk
1 tablespoon cornstarch
1/2 teaspoon salt
1/4 teaspoon fresh ground pepper
1/4 cup green onions, chopped
(OR 1/4 cup caramelized onions)
1/2 cup chopped cured ham roast or cooked bacon
(OR 1/3 cup steamed chopped spinach & 1/4 cup chopped roasted red peppers)
1/2 cup grated Calvander / Asiago cheese /Chapel Hill Creamery
1 cup grated Thunder Mountain Swiss cheese / Chapel Hill Creamery
1/2 cup grated Havarti cheese (or local Gouda)
Preparation:
Roll out the pie shell when it is at room temperature on a piece of wax paper. Dust both sides with cornflour or unbleached flour and roll it slightly thinner with your rolling-pin. Place it into a clear glass or aluminum pie pan.
Arrange the chopped onions and meat in the bottom of the pie crust.
Mix the three grated cheeses together and place them on top of the meat and onions.
Mix the eggs, milk, cornstarch, salt and pepper together. Gently pour over the cheese to cover evenly.
Place a cover over the pie crust edges and bake at 425F for about 30-35 minutes until it is golden brown and puffed up in the center. It will settle as it cools.  Let cool about 5-10 minutes before cutting and serving.
Notes
You can make individual quiche using a muffin tin. Just half this recipe for the egg and fillings and use one pie crust to make about 8-10 small pie shells fitted. Don't bring the pie crust up too much over the top because it will burn easily. And try to bring your egg and fillings to room temperature so they aren't so cold when you put this into the oven.