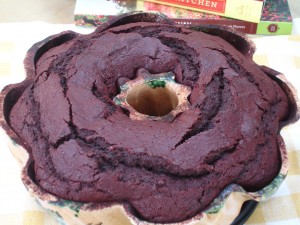 It's beet season again, but I still have roasted beets in my freezer from the fall that need to be used. A few of the vendors at different farmers' markets have had beet cakes that used raw beets, so I figured I might try to use the roasted beets as a substitute. I found several recipes on the web and after making some adjustments I served this cake at NoFo last Friday and again on Saturday at the Five Points Sidewalk Sale.  It's really easy and with the substitutions and reduction in oil and sugar, it is still surprisingly moist and it holds up well for up to 4 days.
One thing I found when testing this recipe was that the cocoa powder mattered. Unfortunately the Valrhona brand that I have been using for a while has been dropped by Whole Foods recently. I've checked several resources locally like Southern Season, Parker & Otis, and Williams-Sonoma, but none of them carry it.  You will probably need to order it online directly from the company. 6/2/2011 Note: Fresh Market carries the chocolate in the specialty section near the coffee and chocolates (not the baking section). They buy it in bulk and repackage it in smaller amounts.
I also experimented with different salts and found the best results from the two Hawaiian salts. They seem to bring out the chocolate flavor and add some undertones that work well with the beets. The red clay and activated charcoal added to the sea salt creates a subtle difference.
Roasted Beet & Chocolate Bundt Cake
2 cups all-purpose organic unbleached flour
3/4 cup Valrhona 100% cocoa powder
2 teaspoons baking powder
1 teaspoon baking soda
1 teaspoon salt (Red Alae Hawaiian Kai sea salt or Black Lava Hawaiian Kai sea salt)
1 cup organic low-fat buttermilk **
1/2 cup virgin organic coconut oil
1/2 cup brown sugar (not packed)
3 large eggs
1 cup organic cane sugar
2 teaspoons real vanilla extract
7-8 oz of roasted, pureed beets (skins removed)
Preheat oven to 350F.
Using soft unsalted butter, coat the inside of the bundt pan well and then use additional cocoa powder to "flour" the pan so the cake releases from the mold easily.
In a large bowl, sift together the flour, cocoa powder, baking powder, baking soda,  and salt (the salt comes in large granules so you will need to use a mortar & pestle to grind it down to a fine powder).
Using a mixer, beat the eggs until they are creamy. Add the cane sugar, brown sugar, and vanilla extract and beat until creamy and well incorporated. Add in coconut oil (make sure it is totally liquid but not hot. It will not incorporate well if it has turned the slightest bit solid. You can warm just briefly to get it back to liquid form. Make sure it's not hot when you add it to the eggs and sugar.)
Carefully fold or mix in the beets on low to avoid making a mess everywhere.
On low-speed, add in the dry sifted ingredients to the wet mixture and beat until it is just incorporated. You can scrape the sides and blend in any remainder that doesn't mix with a spatula before filling the cake pan.
Fill your cake pan and bake for 50-60 minutes. Test with a long wooden skewer or toothpick. The pan I use is made of pottery clay and holds the heat very well. My cakes continue cooking after they are pulled out of the oven so I bake mine for 50 minutes.
Let cool for about 20 minutes and it should release easily on to a wire rack to continue cooling.
You can dust with confectioners' sugar before serving or serve with Strawberry Balsamic Jam and whipped cream.
**Buttermilk substitute: Add one tablespoon white distilled vinegar to a 1 cup measuring cup and then add organic low-fat milk to it. Let it sit for 7 minutes. This is the method I use most often.