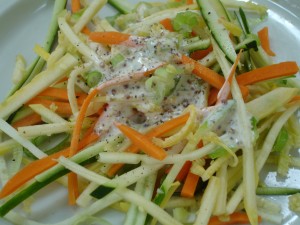 Summer squash is so beautiful that I love finding recipes that contrast the vibrant skin colors to the delicate texture and color of the interior flesh. The original recipe for this slaw came from Sara Foster's "Fresh Every Day". I've modified both the quantities and ingredients just slightly so that this will make plenty for two and probably enough as a side for four. My taste for dressing is on the lean side and I prefer mustard to mayo so you may decide to adjust the mayo. When you do that, you will probably need to increase the amount of vinegar also. I rarely use more than a teaspoon of dressing on a small side salad, so the quantities I've listed won't leave you with spare. Just a note, this dressing is also very tasty on  crab cakes served on a bed of baby lettuce greens, especially with a bit of celery seed.
Summer Squash Slaw
Ingredients
1 (6 oz) green zucchini
1 (6 oz) yellow straight neck yellow summer squash
6 oz of heirloom carrots (any color you desire), peeled
1/4 – 1/3 cup green onion, chopped
Sea Salt & Pepper to taste
2 tablespoon mayonnaise
1 tablespoon Dijon country mustard
1 teaspoon white Balsamic vinegar
1/8-1/4 teaspoon cane sugar
Preparation
Wash and dry your summer squash. Smaller squash work well because they have fewer seeds. Clip off the both ends.
Julienne both the zucchini & yellow squash including the skins into 1/8″ pieces. If you have a mandoline, it works well with the soft vegetables. I do not bother to remove the seeds, but depending on the size of your squash, you may need to. Set aside in a bowl.
Remove both ends from the carrot(s) and julienne them into 1/8″ pieces as well. Add to the squash.
Chop your green onions, from the bulb up through the good parts of the stem. Add to the vegetables.
Mix the vegetables together and add some salt and pepper to taste. I find a lighter salt like Himalayan or Murray Flake work well for this salad.
Mix the mayonnaise, mustard, and vinegar together. Add the smallest amount of sugar and then adjust the mayo, vinegar and sugar to suit your taste.
Drizzle on top of your salad or mix into the salad completely.
Notes
If you want to serve this salad on top of hot dogs or sausages, chop your pieces of julienne strips into smaller sizes so that you can blend it really easily with the dressing or consider using a large shredder for the vegetables.
Honey did not work well as a substitute for the sugar in this recipe.