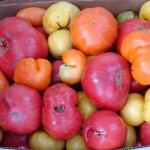 My favorite fruit is the tomato. For me, the whole summer revolves around putting up tomatoes of all sizes and shapes in all sorts of ways. There's tomato jam in the freezer that is excellent on meatloaf sandwiches. There are hundreds of little Sungold dried tomatoes in containers waiting to get eaten on hikes, used in dips, and added to sauces. There are literally hundreds of pounds of tomatoes to be roasted with fresh herbs, garlic and onions and stored in the freezer as sauce, salsa or soup. Are you hungry yet?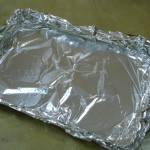 When I was a child, I was just as crazy about tomatoes. I could not wait for the season to begin so I could eat tomato and mayo sandwiches for breakfast, lunch, and dinner. I didn't need the lettuce or the bacon. Just a bit of salt and pepper. My sandwich has changed a bit over the years and now avocado replaces the mayo and I'm able to find some excellent sustainable bacon and shade-grown baby lettuce greens during the summer that make a sandwich worthy of any meal.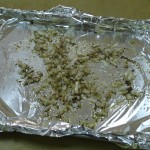 There are so many beautiful colors, shapes and sizes of tomatoes that it boggles the mind. Typically, the more yellow or orange the tomato, the sweeter and less acid it will be. The deeper red to black, means it's got a lot of acid. Every year I discover new varieties because there are hundreds of heirlooms and we are fortunate to have some excellent growers in the Piedmont area.  A local farmer recommended a couple of good books: "The Heirloom Tomato" by Amy Goldman and "100 Heirloom Tomatoes for the American Garden"  by Carolyn Male.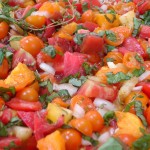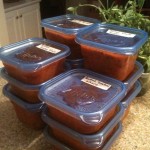 T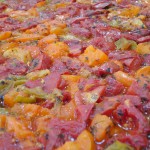 o figure out what you want to roast, just go try tomatoes and see which ones you like. Typically, I've found that just including any that I like raw makes for a delightful blend once it's roasted with the olive oil and herbs. Your sauce will be your own and it will change from year to year just a bit as the farm conditions change. It's like a fine wine, and you keep refining it each year based on the crops.  Keep careful notes and adjust the blends to suit the way you use the sauce in other recipes. If you like to can your tomatoes, you are going to need to monitor your pH, and I recommend a pH meter similar to what dairies use.
Roasting Tomatoes
Ingredients
5 lbs of Heirloom Tomatoes, rough chopped
1/4 cup olive oil
1/2 teaspoon sea salt (Savory Spice Red Hawaii Kai)
1/4 teaspoon pepper
1 tablespoon dry Italian herb mix
1/2 cup chopped sweet onion (optional)
2 minced garlic cloves (optional)
Preparation
Using heavy-duty aluminum foil, cover a heavy-duty stainless rimmed 13″ x 17″ baking sheet, (you must use heavy duty because the temperature will make a lightweight pan warp and it becomes dangerous with the hot liquid) all the way and wrap the excess foil around the edges and on to the bottom if necessary. This is to save you horrible clean-up time.
Mix all of the tomatoes, spices and olive oil together and spread it over the entire bottom of the pan evenly.
Cover the mix with another piece of heavy-duty foil.
Roast at 500F for 20 minutes.
Remove the top foil and roast another 10 minutes uncovered.
Let mixture cool.
Using a food processor, in batches, puree the mixture along with the juice until you reach the consistency that you like. It can be chunky or smooth. You can also use a food mill to do this process with equal success.
Put in freezer containers with a little "head room" and freeze for the season. I do not carry mine over season to season.
Notes
I find it useful to have different size containers of the sauce; small and large, depending on the recipes, you can pull the amount you need for a recipe.
You can also use fresh herbs, onions and garlic while roasting. Take a look at the recipes you normally cook and decide if that will work for you. Or do some each way and label carefully.
Typically for our family of four, I put up about 125 pounds of tomatoes, not including dehydrated ones that we'll discuss in the next posting.