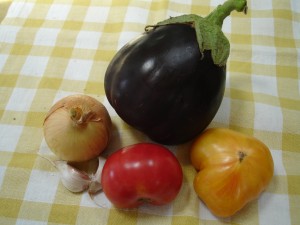 It's hot so eggplant is in full swing and it will be around well into August. This is one of the vegetables that farmers hate by the end of the season in the south. It seems to grow as you are picking down a row so you can go back and re-pick the same row later in the day.  A good number of folks simply don't like eggplant or think it's difficult to work with and nothing is farther from the truth. I was one of those until one of the local farmers egged me endlessly about it a few years back. Now I can't get enough.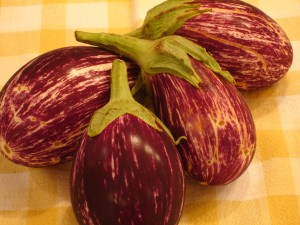 It's also one of the vegetables that is great with different types of salts. I like the Alderwood Smoked Salt when I'm grilling these half-open and using some lemon juice. I like the Murray River Fake Salt when I'm grilling eggplant as chips because they stick to the olive oil so well. And, in this recipe I enjoy the Oak Barrel Salt. Selecting the right eggplant for the job is also key. If I'm making a dip, I need a strong eggplant to balance out the garlic, onion, yogurt and lemon in the dish.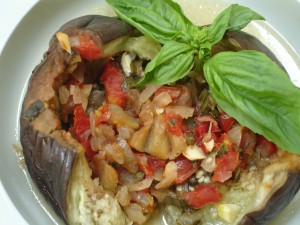 If  I'm grilling or using it in lasagna, I might prefer something like a rosa bianca which is thin-skinned, mild and is the easy to prepare.  This recipe benefits from a small pear shaped eggplant that has tender flesh and a young but thicker skin to hold up in high heat and longer cooking times. You could also prepare some risotto or mixed rice to compliment the vegetables. And, many of the cheeses we have locally will work with this dish from fresh goat cheese to some of the hard cow's milk and softer ricotta.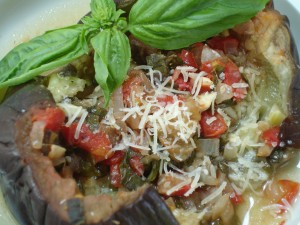 The original recipe comes from Holly Herrick's "Southern Farmers Market Cookbook" (Stuffed Eggplant Parmesan, page 113). The recipe calls for tomato sauce, breadcrumbs and ricotta cheese. But I had none of the above when I decided to make this initially so I took the technique that was outlined and the vegetables I had on hand to create this  gluten & meat free version. This would also work with some grilled zucchini and summer squash mixed into the stuffing or placed on the side.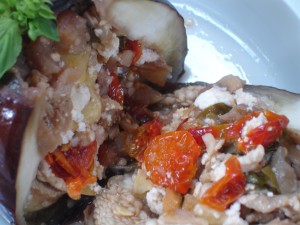 Sunday night I decided to play with this recipe again. I noticed that the first time through there was a lot of juice from the eggplant so this time around, I added some of the dehydrated sungold tomatoes that I put up a few weeks back along with some dehydrated roasted onions. Instead of the hard cheese, I added ricotta to my eggplant tonight along with some leftover zucchini and summer squash. It turns out to be quite a different meal when it's finished. The advantage to the dehydrated vegetables is that they soak up all the juice from the eggplant and other vegetables at it's all cooking. They are plump and tangy and the onions are delightfully sweet. It's a great alternative to using all fresh. If I had finished dehydrating the summer squash, I would  have added it in also.
Here's what I did and this is enough for a meal for one with very easy clean up in the heat of the summer.
Stuffed Eggplant
Ingredients
1-12 ounce pear-shaped dark purple eggplant
3-4 oz heirloom tomato (preferably Cherokee Purple), chopped 1/2″ pieces
1 tablespoon finely chopped sweet onion
1/2 teaspoon finely grated fresh garlic
1 tablespoon finely chopped fresh basil
1-2 tablespoon grated Asiago style cheese ( Parmesan works too)
1/4 teaspoon Chardonnay Oak Barrel Sea Salt
Pinch of fresh ground pepper to taste
2 tablespoons olive oil
Preparation
Carefully cut the top off of the eggplant. It can be prickly so hold it from the bottom smooth part.
Using a tablespoon or grapefruit spoon, scoop out some of the interior of the eggplant. There isn't going to be a lot of seed in an eggplant this small so you will be pulling good flesh that we will re-use. Go gently so you don't bruise it terribly and take out more at the bottom wider section. Leave enough so that the skin has shape, about 1/8-1/4″ thick wall. That isn't going to leave a lot of room for stuffing. Just go with it.
Working quickly, mix about a tablespoon of olive oil with the eggplant pieces, chopped tomato, onion, garlic, and basil. Season with a turn of fresh pepper and a pinch of salt. You can add all, some or none of the cheese at this point.
Again, working quickly, pour about a tablespoon of olive oil into the cavity of the eggplant and swirl it around to coat the inside. Sprinkle about 1/4 teaspoon of the salt and a turn of pepper into the cavity to season it.
Stuff all the veggie mix back into the eggplant. Make it fit.
Wrap the entire eggplant in aluminum foil and place in a small pan to keep it upright and catch any drips that might occur during baking. (Easy cleanup)
Bake at 400F for about 20 minutes. Pull it out and let it sit another 10 before serving. It will split easily when you are moving it. Try using a slotted spoon and thongs for best results. You can garnish with some, all or none of the cheese.
Notes
You can bake this (wrapped in foil) on the grill if you are out cooking other items.
You can add 1/4 cup of ricotta cheese to the center vegetable mix, but cut back on the salt.
You can add 1/4 cup of toasted bread crumbs with herbs (gluten-free would work fine) to the top of this as a finishing touch.
The salts have all been purchased at Savory Spice in Raleigh
You can use 1/4 cup of dehydrated sungold tomatoes & 1/6 cup of dehydrated onions