It was warm and sunny yesterday. The perfect early spring day to work in the garden, clearing out weeds and overgrown plants; making room for new blueberry plants and additional herbs. It was time to see what survived one of our coldest winters, and what did not, namely all of the rosemary looks like toast. On a positive note, the raspberry patch seems to have thrived with the slow melting snow and ongoing rain. Which means there will be extra plants to share with local farmers and friends this year. The trash cans are filled with debris and ready for pick up this week. Today it's chilly and rainy again with sleet expected by the early evening hours. Typical Southern weather. 70 one day, 20 the next. Ice tea with honeysuckle syrup for our afternoon break yesterday and warm sweet potato lattes this morning for breakfast dressed with local honey.
Here's a simple winter soup recipe to make in your blender or food processor from roasted veggies you have put into your freezer. Or, if you choose, roast them for dinner tonight with some cabbage slices drizzled in olive oil and then puree them tomorrow into a rich deep orange-colored soup for lunch.  Two meals in the time it takes to make one. That's my kind of deal!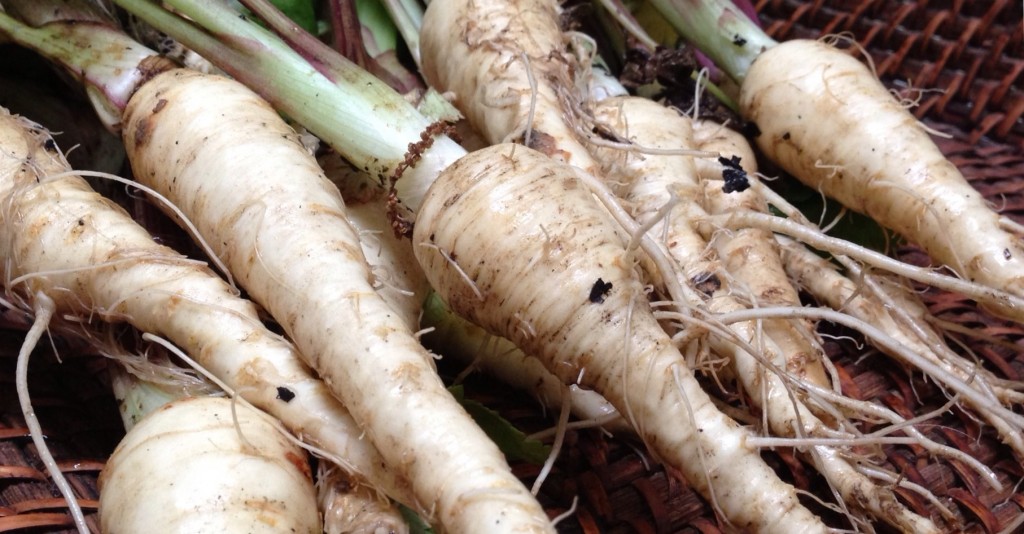 I prefer to use the smallest parsnips and carrots I can get from local farms for this recipe. Being a tad lazy, and hating waste, I simply prefer scrub the veggies and do not bother to "skin" them. The smaller parsnips don't have that inedible center core and the carrots are incredibly tender when they are little. The parsnips will be just a little spicy, but most importantly, they will caramelize really well from tip to root when they are small and still full of juice. Try to use a "grassy" olive oil to compliment the flavors of both veggies in the roasting process.
Herb Roasted Parsnip & Rainbow Carrot Soup
Ingredients
2 cups roasted carrots, roughly chopped
1 cup roasted parsnips, roughly chopped
1/2 cup sautéed celery
1/2 cup sautéed onion
1/2 cup dry orange lentils – cook in liquid prior to adding to other vegetables
1/2 teaspoon dried shallots (1 teaspoon fresh)
1 bay leaf
1/2 teaspoon dried thyme leaf (1 teaspoon fresh)
1/2 teaspoon ground cumin
1/4-1/2 teaspoon ground coriander
1/2 cup coconut milk (whole or lite)
1/2 teaspoon Himalayan fine salt
1/2 teaspoon Chardonnay Oak Barrel Smoke Salt
1/4 teaspoon fresh peppercorns – Mesquite & Apple Wood Smoked Peppercorns
up to 4 cups stock (vegetable, rabbit, or chicken)
Preparation
Scrub the parsnips and carrots well with cool water. Dry them. Cut off just the very top and any extensively long root bottom as it will simply burn. Cut any large carrots in half or quarters, leaving them long. Aim for the size of a young woman's finger. There is no need to be exact.
On a sheet pan covered with parchment paper, drizzle olive oil on the parsnips and carrots. Add salt, pepper and a blend of herbs that you enjoy. Taste the vegetables raw to check the seasonings. The salt and pepper will intensify in the roasting process. I typically use thyme, rosemary, marjoram, oregano, celery leaves. These can be dried or fresh. The amounts listed in the recipe are for the soup, so you will need more for roasting the vegetables. Whatever you have will work fine if they are blended into the oil.
Roast at 400-425F until they are tender and lightly browned. If you are in the kitchen and can watch the oven, higher heat works well. If you can't watch the vegetables, turn down the heat and allow yourself more flexibility in the cooking time.
Saute the finely chopped celery and onions in olive oil until they are translucent and soft. Local celery is more tender and flavorful than store-bought celery because the farmers harvest it earlier to preserve the beautiful topping of leaves and keep it from being eaten or burning in the fields. Heirloom onion varieties can be more sweet than store-bought onions and caramelize faster. Use butter if you prefer, but the recipe is written as dairy-free and diabetic friendly.
Cook the lentils in water or stock with the bay leaf, shallots, thyme, cumin and coriander.
Blend the carrots, parsnips, celery, onion, lentils, coconut milk and 2 cups of broth together. Check for seasoning and continue to add broth to the mix until the desired thickness is achieved. Adding additional coconut milk will dilute the spices and vegetable flavors more than broth. The soup will freeze with the coconut milk. It will not freeze with dairy milk.
Serve with toasted pumpkin seeds. Bacon works well too for those of you that enjoy it.