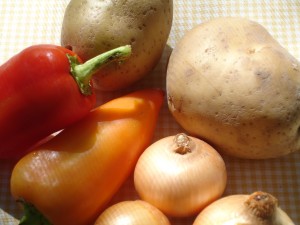 I know you are all familiar with ground paprika spices. They are grown all over the world and many for the US market are grown and processed into dried spices in California. It turns out that with a little care, Paprika Peppers can be grown here in NC and they are excellent cooked up with sweet onions and fresh home fried potatoes, or added to some Eggplant Chili.  They really hold their color,  texture and sweet flavor well when cooked so they're perfect to add to dishes that are a bit dull on color.
These home fries are easy to make a day ahead of time if you are expecting company.  It's also easy to dish out a little for each person and warm them in a pan with scrambled eggs or an egg "over easy". It's also possible to put the finished home fries into a casserole dish and break some fresh eggs on top. Bake the entire dish until the eggs are cooked through and serve. The recipe makes enough for 2 healthy servings.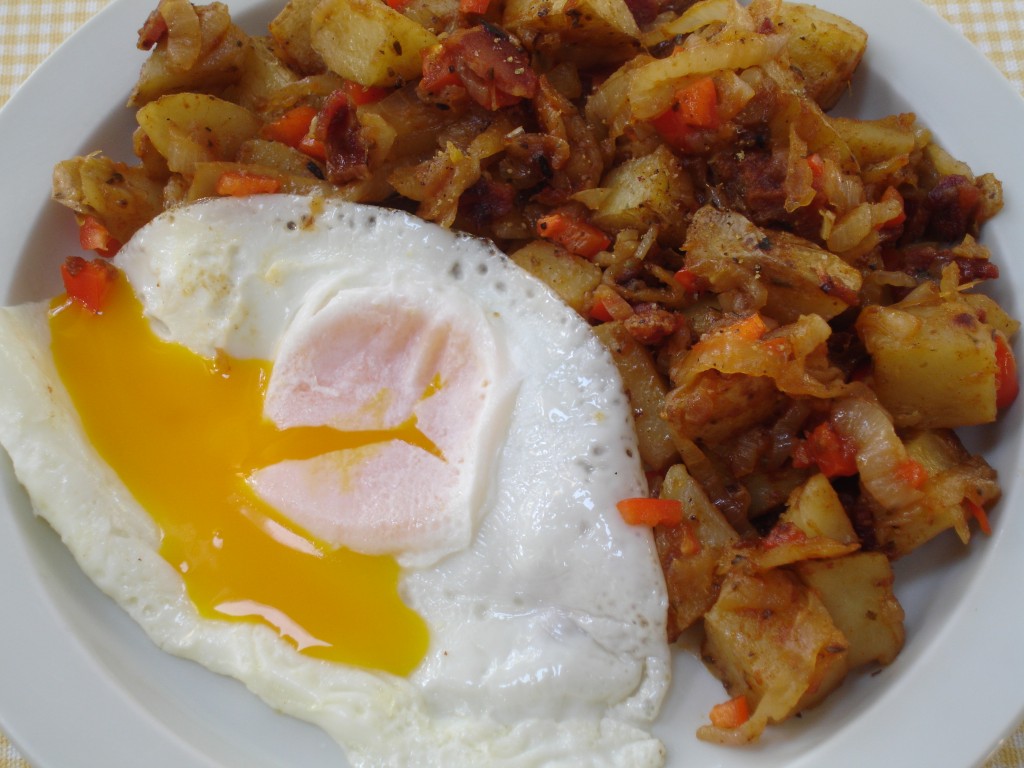 Home Fries with Paprika Peppers & Sweet Onions

Ingredients
1 tablespoon Olive Oil
1 lb yellow medium starch potatoes, cleaned and chopped to 1″ squares (skins left on)
1/2 cup chopped paprika pepper (the seeds have heat, so leave them out if you just want the sweeter flavor)
1/2 cup roasted sweet onions, or 1 cup raw thinly sliced and chopped sweet onions smoked hot paprika powder
1/2 – 1 teaspoon sweet paprika powder
1/4 teaspoon hot smoked paprika powder (optional)
1 slice of cooked bacon chopped per person (optional)
1-2 eggs per person
Preparation
Add olive oil to a heavy cast iron pan and heat it on medium. Add the onions if you are using raw and slowly cook on medium/ low heat until they are lightly browned for about 10 minutes.
Add the chopped potatoes and turn up the heat to medium high. Make sure there is enough olive oil in the pan to keep the potatoes from sticking. You can add just a little butter if you would like more browning and slightly sweeter flavor.
Add the smoked paprika powder, sweet paprika powder, salt and pepper. Mix everything together well with the potatoes and onions until it's all well coated.
Cover the potatoes with a lid and let them cook for about 5 minutes on medium heat until lightly browned. Stir them around and repeat for another 5 minutes.
Check the potatoes and continue the cook until they are nicely browned and cooked through. You can cook them to any level of softness that you prefer. The smaller pieces cook up more evenly and quickly than larger pieces.
As the potatoes get close to finishing, add the bacon and fresh paprika peppers. They will need about 5 minutes to warm through. The peppers will still be a bit crunchy and the bacon will soften.
Cook your eggs as the potatoes finish and serve on top with a sprinkle of fresh parsley if you have it.
If you plan to bake this in a casserole dish, set the oven to 400F and add the raw eggs to the top of the home fries. The home fries should be completely cooked and as close to room temperature or warmer, so the eggs don't take too long to cook through in the oven. Bake about 7-15 minutes depending on how cold your eggs are to start. You'll need to watch them after the first 5 minutes because the time can vary significantly.