Last fall as the eggs were rolling in with cooler weather, I started looking for some different egg-based recipes that would work for any meal. I came across several recipes for Shakshuka. Wikipedia has some history about the root name and history of the dish : http://en.wikipedia.org/wiki/Shakshouka . Depending on the country, different elements are added to the base tomato sauce base. As you read through the descriptions for each country and the historical perspective, I think you'll see why I like this recipe. By adding a variety of nuts, spicy chickpeas, local sausage, dried hot peppers (hot ground Israeli paprika is excellent), heirloom tomatoes, fresh spices like chives, thyme, or rosemary, this recipe can change with every season! And I think it's especially good served on top of some baby arugula or fresh greens that will wilt under the tomato sauce. You will need a wide and shallow pan made from cast iron or a stainless casserole or saute pan that has a pretty tight lid for the poaching process, but I've also used a flat cookie sheet, weighted down, in a pinch.
Since it's tomato season, it's a good time to put a little extra sauce away so you can make this in just under fifteen minutes during the fall, winter and early spring. The spicy chickpeas can also be frozen after you roast a large batch. Simply thaw and reheat to get them crunchy again. Add them thawed to a recipe if you are going to blend them.
The start of this recipe is the 2011 recipe for Roasted Tomatoes .  The only difference today is the way I go about roasting tomatoes. I use unbleached parchment paper between the foil and tomatoes to try to eliminate the heavy metal exposure. The foil is simply to cut down on the clean-up time and I've found that the disposable aluminum pans fit perfectly into my heavy-duty 1/2 sheet pans that came from the family home. Change the parchment paper each time you put a new batch into the oven or grill because it breaks down with the liquid and heat each time.
As I've spoken to many of you at the market over the last couple of years, I know you don't always have time to roast your own tomatoes, so the advice I like to pass on is to at least buy a dehydrator. Cut cherry tomatoes in half or slice plum and full-size tomatoes about 1/4″ thick.  Place on the dehydrator tray, cut side up with some dry herbs, salt & pepper sprinkled on top. As they dehydrate, the herbs will stick to the tomatoes and create a concentrated flavor profile. Store them in plastic bags with a food-grade silicon bag in each one to absorb excess moisture. Or seal them in the bag and freeze them. They easily last a year and take up very little room compared to canned or frozen sauce. Combining these with your canned tomatoes helps absorb the excess liquid quickly reducing long cooking times. It also increases the flavor more rapidly because you'll have a blend of tomatoes instead of a generic plum-roma that is typical of most canned tomatoes.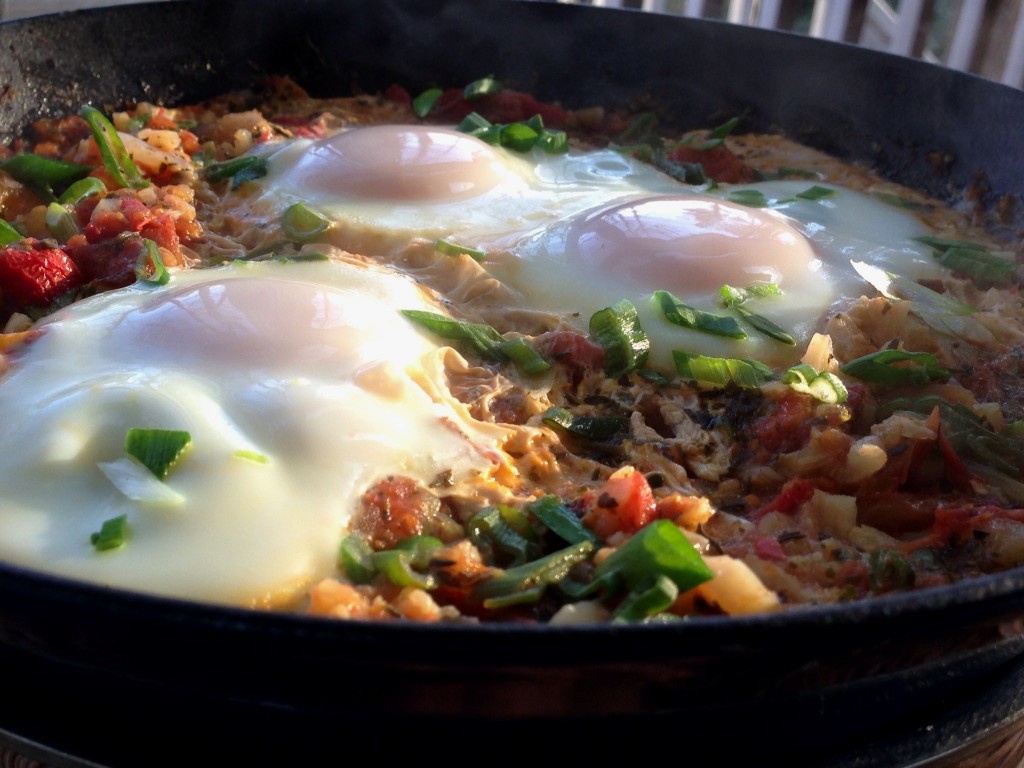 Shakshuka: Poached Eggs on Roasted Heirloom Tomato Sauce

Ingredients
6 cups roasted tomatoes with juice (homemade or canned)
1/2 cup roasted or slow-cooked onion, chopped
2 teaspoons roasted garlic (vary depending on what's in your sauce)
1/4 – 1/2 lb cooked sausage (sweet or hot)
1/2-1 cup quick cooked crispy Shiitake mushrooms with smoked salt & smoked peppercorns- optional alternative to meat
2-3 tablespoon chopped green onion
6 pullet eggs – or 4 large eggs (pullets cook faster since they are smaller)
1/4 teaspoon smoked hot paprika – light dusting for the poached eggs
optional items include chopped hot peppers (1-3), up to 1 teaspoon cumin, 1/2 cup roasted spicy chickpeas, substitute sweet paprika for hot, 1/2 cup chopped celery, 1/4 cup feta cheese, 1/4 cup finely chopped parsley or chives
Preparation
If you don't have pre-cooked onion, start by cooking about one cup of chopped sweet onion in some olive oil on low heat until it's translucent. You can add the chopped celery at the same time.
Add the tomato sauce, garlic, mushrooms, chickpeas, and/or sausage to the onion and celery mixture and cook until it's simmering.
Stir in the green onion.
Quickly break the eggs into the tomato sauce without breaking the yolks (you can use a separate bowl).
Sprinkle with paprika.
Cover and cook with the tomatoes simmering on medium-high for about 4-5 minutes until the egg yolks are just set.
The whites will still look uncooked, but they continue to cook even as you serve the dish.
Serve over grilled or toasted bread with a healthy serving of the tomato base.