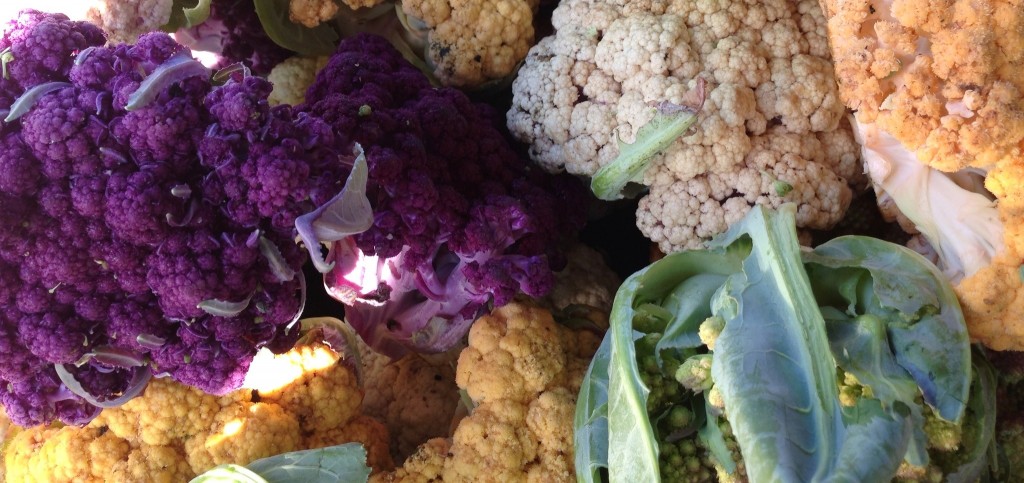 I won't lie, it's been hard getting back to writing after taking so much time off to visit with family and friends through the holiday season. I've been slow to get started and frustrated with the limited exposure from Facebook when I post recipes or news now that the company has made so many changes to their posting algorithm. If I pay for advertising, then my posts go to random people, not to the folks that "liked" my page and somehow that seems incredibly stupid to me. I have written and tweeted the VP of Sales and Marketing offering up the suggestion of a subscription model that allows my followers to get all of my posts for an annual fee that I pay as a business. Not a huge annual fee, but something reasonable that a small business or non-profit can afford. There are so many of us on Facebook now. NO REPLY. After more than 20 years in sales and marketing myself, this just seems ridiculous. But enough whining. If they can't reply and can't put a program in place that works for a small business or non-profits that I work with and support, then I'm just going to make a few changes to my writing pattern to promote my website instead of theirs. Hopefully this change with the expansion to Pinterest and Twitter will work better to spread the word of farm to fork with sustainable local ingredients.
Some of the recipes this year are going to be terribly simple and the blog entries may border on very short when there's a news feature. A day rarely passes that I don't cook. Sometimes there are smoothies that only take five minutes, or sandwiches/pizza from leftovers that might take fifteen to assemble and warm. And, sometimes the meals are more elaborate, requiring up to three or four hours. But most of the time, meals are a combination of pre-cooked items from the freezer brought together into a simple recipe that takes a fraction of the time it normally would if you started all the way from raw ingredients. The hard work is done when the foods are harvested. Dehydrating, roasting, slow cooking, or lightly steaming bulk ingredients and putting them into containers with dates takes some time, I won't lie about that. But when you are tired or want to teach your kids to cook, this method will give you options to pull together a nice meal pretty easily because the slicing and initial cooking is already complete. Once you get the hang of putting up a few key ingredients when they are in-season, you'll see how easy it is to work in and out of season blending fresh market ingredients as they are harvested.
This is totally different from "throwing" things together from the fridge and pantry. This method takes a little planning to figure out what you normally eat and putting up your family's basics so you can continue to enjoy the meals you like throughout the year, but with less effort when it counts. Cutting an hour or more off of your cook time during the week allows you to keep your meals healthy and satisfying. You will also have more time to try out new recipes. Entertaining becomes a breeze too. When the weather is not cooperating and there's a shortage of one ingredient or another at the market, this strategy keeps great farm food on your table day after day. Please, feel free to send me emails or comment on the website if you need help with a recipe. That's the only way I can learn what you would like to see or need to know.
On to the recipe for today. I started writing this on #MeatlessMonday, but I'll confess that I have used rabbit broth in this recipe. I ran out of veggie broth a couple of weeks ago and I'm trying to use up some of the other stock in the freezer before I add more. At some point I have to defrost the freezers each year and the early spring when items dwindle a bit is a good time to shift food around and do the big defrost. To that end, I came some delicious pesto when I was consolidating two freezers.
But back to the pesto! This particular pesto was given to me by a client over the holiday. She remarked that it's really hard to give a food gift to someone who cooks almost every day! But she picked out a couple of things that I don't often make for myself, which was really lovely. One sweet and one savory. Of course the sweets did not last long. There's a reason I don't make a lot of sweet recipes. I have very little willpower when it comes to baked sweets. I am a kid in a bakery. They are my weakness. Handed down from my mother and father. I've probably talked about the bakery in Ellicott City called Leidig's before. They are no longer in business, but I remember waiting in line on the weekends with my sisters to get special rolls for grilled hamburgers and a pastry to eat right away as a treat for behaving in the line. Today many would frown upon giving a child food as a reward, but it seemed to work just fine in our case. We each got one treat, no more, once a week. Both of my parents worked full-time so there we didn't make a lot of sweet things at home. Although I will admit that my mother's recipe for Apple Cake is still one of the very best I have ever eaten.
I love to taste new things and experiment putting items together, so the pesto presented an excellent opportunity to try a couple different recipes.  It's been my experience that people either love or hate pesto. And there isn't any rhyme or reason to it. I've made a few different types over the last couple of years for farmers' market demonstrations including sorrel, arugula, broccoli and basil. Seasonally they are kind of fun to add to everything from chevre to swirls in a quiche. In my family, I'm the only one that likes pesto, unless it is hidden well in a dish. It can't be the main show. Maybe it's the color. They tend to all be a dull-brownish-green color with the broccoli pesto as an exception. It  is a lovely shade of bright green, in my opinion.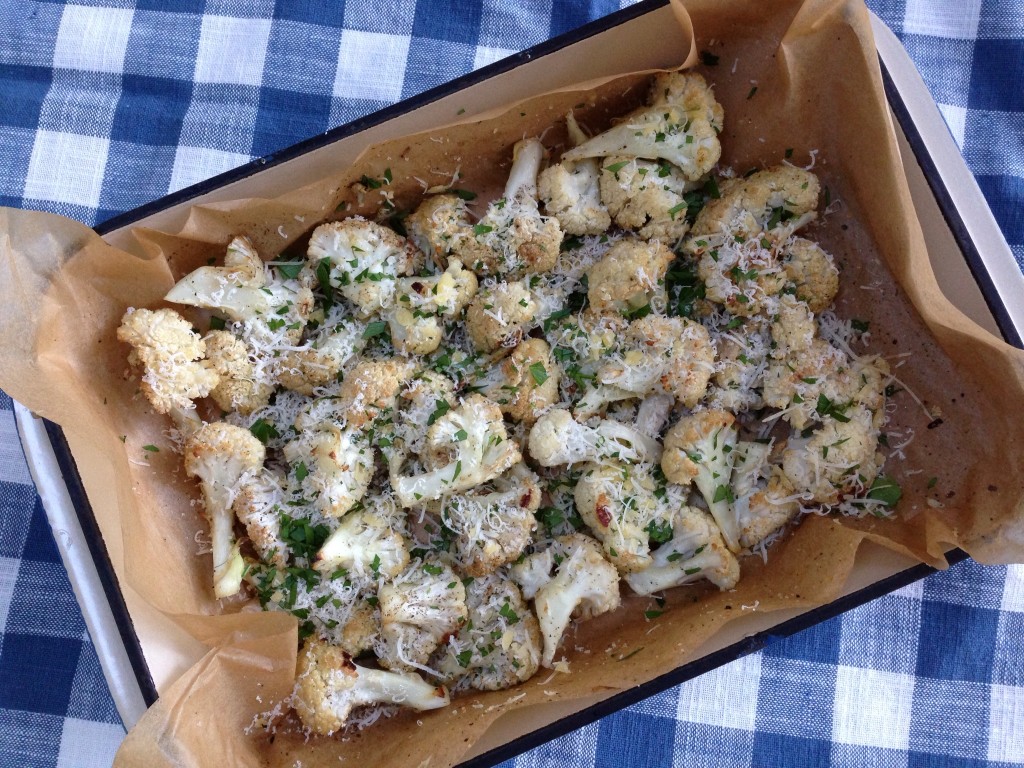 A little research on the web brought up several recipes for roasted cauliflower and I love to roast it with herbs and top it with cheese when it's fresh from the market. But I also found recipes for it roasted and topped with pesto sauce. Simple enough to make, especially if you already have the pesto on hand. Since cauliflower isn't in-season at the moment, my frozen roasted stock from the fall came in handy. It isn't as firm once it's frozen, but the flavor is still lovely. Normally I would use it in an Indian curry dish or use it in  chickpea soup.  But this idea of simply blending the cauliflower and pesto together with a bit of broth took hold and that's what I ran with last week.  Incredibly easy and creamy. Just perfect for the chilly weather we've been having lately.
I added my twist of flavor. There was a wonderful recipe for celery soup that I tested out and loved the week before last.  I thought that sautéed celery and slow roasted onions would enhance the base flavor of the soup and compliment the cauliflower. Since both ingredients were already cooked and stored in the freezer, it really didn't take any time to add them to this soup. The sautéed celery and onions are combined with the roasted cauliflower in a pot with stock and cooked for around 10 minutes,  just to soften everything up a bit before it goes into the blender. The pesto gets added at the end and all of the ingredients are blended until smooth. Adjust the seasonings for salt & pepper and thin the soup as necessary with additional broth (whole milk or nut milk work too).   The first batch of soup turned out really well and adding some toasted nuts and additional roasted cauliflower to the top made it more presentable, but they are not required. The blended cauliflower has a silky texture similar to cream, without the extra calories. The cheese and nuts from the pesto add some protein and hold the body of the soup together without the use of flour or other thickening agents.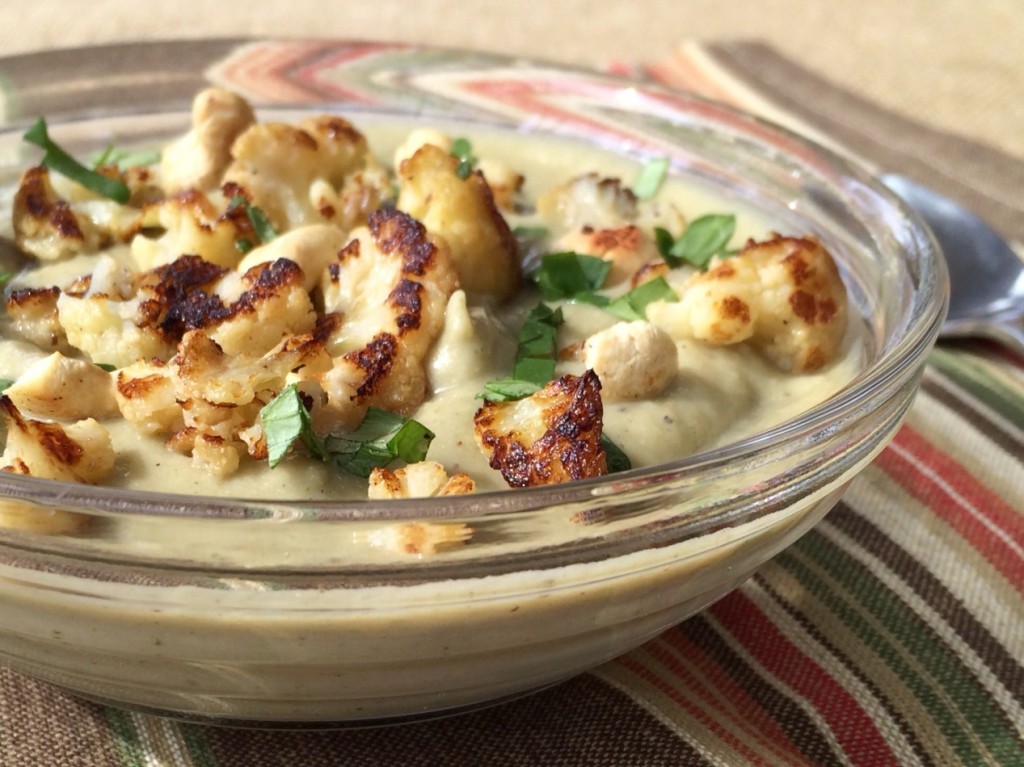 Roasted Cauliflower & Pesto Soup
Ingredients
16 – 20 oz broth (Rabbit, Chicken, Veggie)
8-12 oz roasted cauliflower in olive oil (finished weight which is about 1/2 raw weight)
2 generous tablespoons pesto
1/8 cup roasted or sautéed onions
1/4 cup sautéed celery
1/2 teaspoon roasted garlic (optional)
1/4 teaspoon fennel pollen (optional)
Salt & Pepper to taste – will vary depending on stock and the way the cauliflower is roasted
Preparation
Roast the cauliflower by coating in olive oil, salt & pepper and any spices you like thyme, rosemary and garlic. Cook it at 400-425F until it is roughly half of its original size and nicely browned. Use parchment paper underneath to keep your sheet pans cleaner.
Saute the celery and onions until they are translucent in olive oil.
Add the cauliflower, celery, onions, and fennel pollen to the broth and heat until it is simmering. Cook about 10 minutes with a lid on just to soften up the vegetables a bit more. You can add the pesto or wait and add it in when you blend everything together.
Puree the batch of vegetables, stock and pesto in a blender, food processor or with an immersion stick until it is smooth. Add more broth (or water) if necessary to reach your desired consistency.
Adjust the seasonings.
Top with mild fresh herbs like chives, thyme, celery leaves, and toasted nuts or roasted chickpeas for some crunch