Do you hate that horrible dreaded chore of cleaning out the fridge? The time when you find things that you didn't get around to eating, or the food that fell down behind something else, things in bags and containers you really meant to get to, but didn't before they sprouted into new plants or other life forms with a new array of colors. We all have the odd leftover items that just get wasted. For me, one of those items is mushroom stems. Not just any old mushroom stems, but shiitake stems, the tough, woody ones. They sit in the container after I have processed pounds of mushroom caps, waiting for me to make stock, which takes a bit of time to produce properly. I have several large containers in the freezer right now and I don't need more at the moment.
I bet most of you don't know that the Food and Agriculture Organization of the United Nations was founded on October 16th, 1945, built upon "its belief that the goal of freedom from want of food, suitable and adequate for the health and strength of all people can be achieved." Celebrated around the world, World Food Day honors that day and our commitment to defeating hunger. And this year's international theme is all about Family Farming, feeding the world and caring for the earth.
So when this week's IBM Watson beta-group challenge was posted to cook something we normally waste for The United Nations World Food Day, I was all in with these mushroom stems and a few other crazy items like apple peels and beet stems, which we will get to in another entry.  Since I would normally just compost this bunch of stems, I wanted to try to use this underutilized, normally wasted, food in a different way to increase its value.
The stems are typically tough and fibrous, not something called for in most recipes. They remind me of clams for some reason. My thought was to cook them in smoked salt and smoked peppercorns and elicit a bacon-like flavor like I do the caps and that would allow me to add them to several dishes without having to worry about their chewy nature. I could probably add them to clam chowder at a that point too! To do this, I started by cutting off the dry end where they were harvested from the logs. Then I chopped them the into small bits that would be the size of bacon bits for a salad. Using a hot cast iron pan, I proceeded to sauté them on medium heat in olive oil with the Alder Wood Smoked Salt and &  Mesquite & Apple Wood smoked peppercorns from Savory Spice until they were slightly crunchy. This took about 10 minutes. As I was finishing the browning process I added about a 1/2 teaspoon of the concentrate Tamarind Paste and a little Chardonnay left in the fridge just to deglaze the pan and add some moisture back to the mushroom bits. The process took about half an hour start to finish. Once the mushrooms bits are finished they can be stored in the freezer or used within a few days in a new recipe.
This recipe is one of a couple that turned out well. It is a side dish that uses items frequently found in bulk at the farmers markets this time of year. Pairing the mushroom bits with arugula, baby white turnips & smoked farmers' cheese creates a rich dish that can stand up well to a lovely piece of grilled meat or roast. Feel free to use baby turnip greens or any other tender baby greens you might have around your house for this recipe. I think that some green or red soft leaf lettuce or a fall baby braising mix might also work well with this set of ingredients. Paneer would be a great substitute for the smoked farmers cheese if you are not fond of the smokey flavor.
Using IBM's Chef Watson program I plugged in a couple of different alternatives to produce recipes for gratins, risotto and soup. I picked through the results to find recipes that required ingredients I can find at the local markets, or items I have already put away. The program allows me to select 'Yard to Table' and 'Earth Friendly' as my primary style most of the time, which seems to sway the results to use more fresh food unless I override it by selecting some style that might not feature as much local produce and spices. And even then, I have found the recipes to be pretty flexible.
The program is getting better at listing out steps properly and better at measurements relative to the number of servings although a couple of the most current recipes called for an amazing amount of garlic. Watson is an application that is learning from us and our corrections and adjustments, just as we are learning new food combinations from the recipes. A couple of the recipes for this Gratin came out with some chili spices in them. I think this might be a fun way to change the recipe, especially if you substitute paneer for the farmers cheese.
I tried making this recipe on the stove top and in the oven, with and without the greens. I eliminated the bread which is traditional in a Gratin mainly because I already eat enough without additional encouragement. But certainly feel free to add some back in on the top if you have something extra special from the bakery. A rustic French style bread would work well with the Smoked Farmers Cheese and maybe some ground up naan if you choose to add chili spices and go with paneer.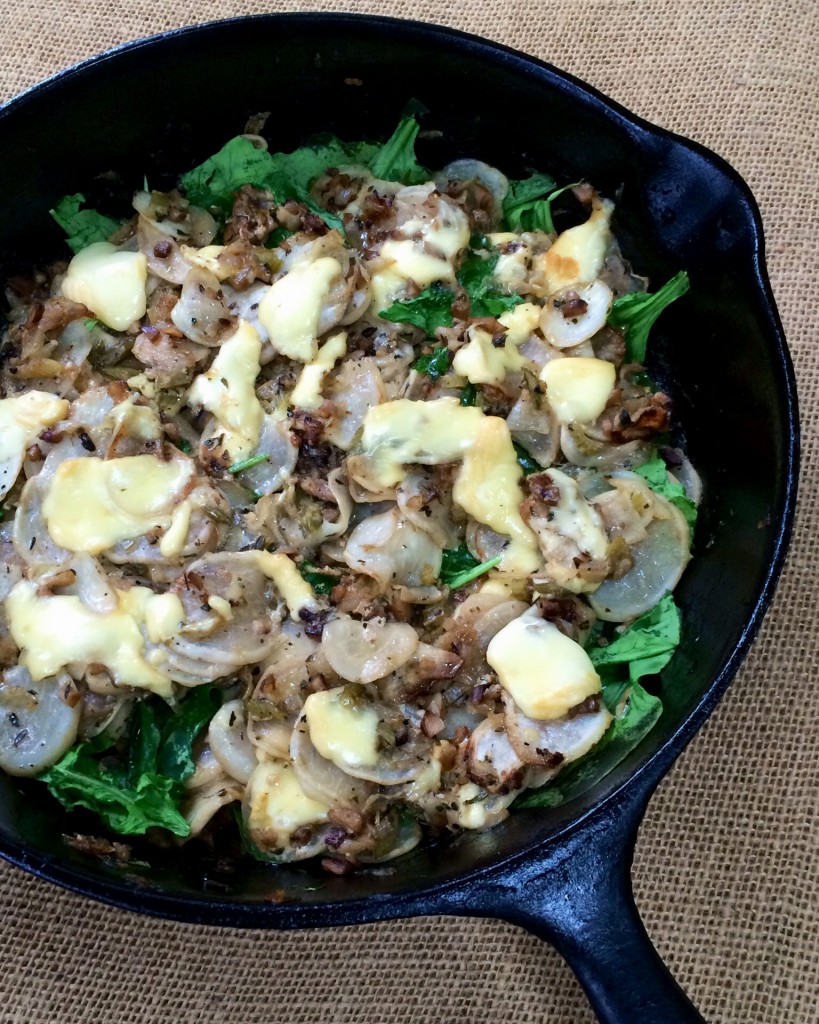 Baby Turnips & Mushroom Stem Gratin
Ingredients
3/4 cup sweet onions (saute or roast until translucent)
1/4 cup celery, finely chopped (locally grown celery is typically stronger & more fibrous than typical grocery store celery; adjust accordingly)
3 cups of baby white turnips, thinly sliced
1 teaspoon Italian Herb mix ( or 1 tablespoon of fresh herbs)
1/2 teaspoon fresh rosemary, finely chopped
1/2 cup finely chopped shiitake mushroom stems (sauté in olive oil on medium high heat with smoked salt & smoked peppercorns until well browned and a little crispy. If possible deglaze pan with white wine, water, or broth and store with mushroom bits)
1/2  teaspoon Concentrate Tamarind Paste Liquid (Savory Spice) or substitute 3/4 – 1 teaspoon Worcestershire
1/4-1/2 cup whole milk or cream (lightly warmed)
1/4 cup Chardonnay
Olive oil
4 oz Smoked Dairyland Farmers Cheese (Chapel Hill Creamery)
4 cups loose packed baby arugula (or baby turnip greens, tender Bibb or Red lettuce, possibly baby Savoy cabbage)
Preparation
Pre-heat the oven to 400F
On the stove top, warm a large cast iron pan to medium high. When it's up to temperature, add in 1 tablespoon olive oil and coat the bottom of the pan well.
Immediately add in the thinly sliced turnips and toss to coat with olive oil and herbs.
While the heat remains on medium high, add the celery and cook, turning only as the turnips brown on one side. Do not crown the pan. Work in two batches if necessary.
As the turnips and celery finish add the pre-cooked mushroom stems, tamarind concentrate and chardonnay to deglaze the pan and heat through.
Turn off the heat and add the milk. Most of the water will evaporate immediately but the turnips will absorb the rest. (if you are able to warm the milk or cream a bit, it helps eliminate the chance of curdling)
Remove everything to a bowl.
Layer the greens across the bottom of the pan and cover with the turnip mixture. Thinly slice the soft cheese randomly over the top of the turnips.
Bake for 10-15 minutes until the cheese is melted and just beginning to brown and the greens have wilted.
Serve while hot.