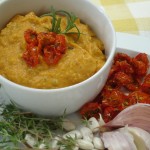 Looking for a healthy snack alternative for summer or fall? This is a breeze to whip up, and like most of the dips I'm fond of, you can make this from fresh or from "stored" foods.  It will also freeze well after you make a batch for a couple of weeks. I used some fresh roasted Sungold cherry tomatoes from one of our local CSA farms. I like these tomatoes roasted because they take on a sweet taste when you mix them with a little olive oil, salt & pepper. In this case, I did choose to use a Hawaiian Red Alae Salt which I think has an earthy tone to match the tomatoes, but regular sea salt will work well if you have it on hand.  Blend the tomatoes with inexpensive white beans, mix in some fresh chevre from a local cheese maker, a little garlic, some onion,  a  few red pepper flakes to take the heat up and some fresh thyme leaves and rosemary from the garden and you're finished. Throw it all into your little food processor and whip it around for a couple of minutes, and you will have a delightful treat to serve with vegetables or on some fresh bread or crackers. This is also excellent as a spread on turkey or chicken sandwiches as an alternative to mayo.
Sungold Tomato & White Bean Dip
Ingredients
1 cup of cooked cannellini white beans, no liquid
1 cup of roasted Sungold cherry tomatoes, with liquid
1 1/2 teaspoons garlic ( I used roasted which is mild)
1/2 cup sauteed or roasted sweet onion, chopped
1/4 teaspoon pepper
1/2 teaspoon Red Gold Hawaii Kai Sea Salt
1/8-1/4 teaspoon Red Pepper Flakes
2 tablespoons plain Chevre
1 teaspoon fresh thyme leaves (removed from stem)
rosemary leaves removed from a 4-5″ stem
olive oil – just a little to process if necessary
Preparation
Using a small food processor (may require 2 batches) blend equal amounts of the cannellini white beans and roasted Sungold tomatoes along with the garlic, onion, salt, pepper, chevre, thyme and rosemary. Taste and then adjust the heat with the red pepper flakes.
You can substitute feta (even marinated) for the chevre
I tried using yogurt instead of the chevre, but I didn't think it worked well