Last year I was fortunate enough to be given a large bag of pears from a very old tree at Elodie Farms. It was so much fun making Pear Butter that I thought I would share the recipe. It's really simple, doesn't use any additional sugar and this year I added fresh ginger from Edible Earthscapes.  New Grass Gardens supplied the pears this year along with Lucky 3 Farms. If you want any local pears at this point, you'll have to hurry.
Local pears are not terribly pretty and very different in texture from what you probably buy in the grocery store. They are closer in texture to Asian pears. Crisp and a bit on the hard side, they lack a ton of juice, but the flavor concentrates well when they are cooked or dried. You can use them in cobblers, porridge,  roasts, fruit breads or as a partial oil substitute in many recipes all through the winter. In many ways, I like pear butter better than apple sauce or apple butter. The flavor is complex and the addition of fresh ginger, nutmeg and vanilla balance the recipe without overpowering the fruit.
Many folks cook the entire pear, skin and core included and then use a food mill to separate the inedible parts.  I tend to skin and chop mine because I use organic fruit and there can be some significant insect damage that needs to be removed before cooking.  Pears, like apples, discolor quickly, so the cooking process needs to start as soon as possible. It's also possible to use a slow cooker on low for about 6 hours with the top lid slightly ajar. I change my cooking method depending on my schedule. But most times, I use a heavy ceramic coated dutch oven on the stove or a professional grade stainless pot with a fair amount of weight to it. The idea is to hold the temperature evenly and avoid burning the fruit as the liquid reduces.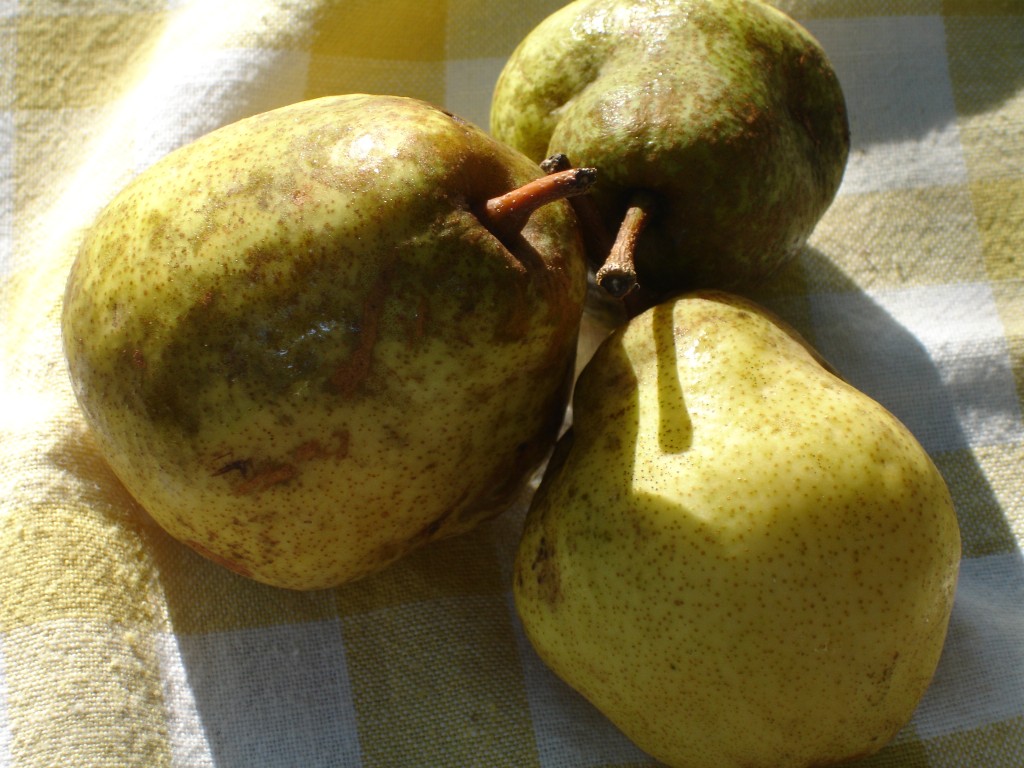 Pear Butter
Ingredients
12 cups of chopped pears (1″ squares)
2 cups of filtered water (if you are cooking on the stove top, use about a cup if using a slow-cooker)
1 1/2 tablespoons fresh minced ginger (pink-skinned ginger that has not been dried or prepared for the grocery store)
1/4 teaspoon fresh grated nutmeg
1/2 teaspoon Ceylon cinnamon (delicate & complex flavor)
1/2 teaspoon Madagascar vanilla extract (vanilla powder will work)
Preparation
Peel and chop the pears, discarding the skins, bad spots and core and seeds
Put pears in a heavy, high-wall pot with water, nutmeg, cinnamon and minced ginger. If you are using vanilla powder, you can add it at this point also.
Cook on low/med as a very low simmer for about 2-3 hours stirring as necessary to avoid burning until the mixture is thick and a light brown color.
Add the vanilla extract close to the end of the cooking time. (I have not tried using a vanilla paste)
Puree everything using a food processor and freeze in the increments you think you will use it over a week's time, or in increments for recipes.
Notes
I have not canned this recipe.
Other flavors that work well are cardamom, fresh orange peel, anise.
If you find this isn't sweet enough for you, add 1 tablespoon date sugar and 1 tablespoon turbinado sugar