My favorite thing about this salad is the ease of preparation, versatility, and low-cost of the ingredients. After serving  it the Carrboro Farmers' Market a couple of weeks ago, I've made it a few more times and changed the dressing to incorporate locally made mustard from Two Pounds, which has a wonderful kick to it and works really well with both maple syrup and honey. I've infused my maple syrup with both local ginger and  local hot dried cayenne peppers and both types are great with this salad.
The real beauty of this salad is it can served raw as a large entrée salad; shredded like a slaw and put on top of locally made hot dogs or sausage links; or served warm with a light vegetable broth paired with local mushrooms and onions. I'm going to give you the basics and then some notes on variations that I've tried at home to make one basic dish work for three very different meals. You are welcome to adapt the amounts of the greens to whatever you have available or prefer to eat. Most of the time I cook my peas/beans from scratch which takes a little time, but allows me to track the amount of salt. In this recipe I also used a special tool that spiral cuts the turnips into noodles called a turning slicer. If you have kids this is great fun.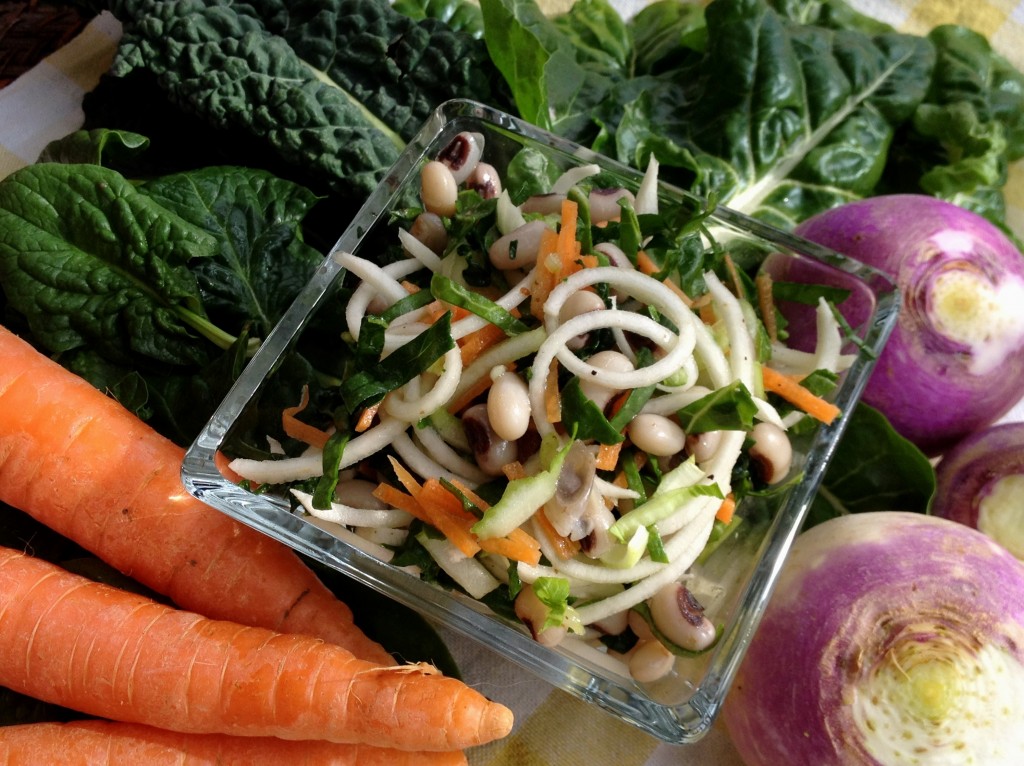 Winter Greens & Turnip Salad with Black Eyed Peas

Ingredients
3  cups cooked black eyed beans, drained and rinsed
2 cups baby chard, julienne cut
1 cup baby spinach, julienne cut
1 cup kale, julienne cut
1 cup baby bok choy, julienne cut leaves, thinly slice whites
2 medium white or purple top turnips ( 10-12 oz each)
2 cups julienne cut carrots
Dressing Ingredients
1 – 2  teaspoon Two Pounds Mustard (original flavor)
1 tablespoon White Balsamic (or Apple Cider Vinegar)
2 – 3 teaspoons grade B Maple Creek Farm Maple Syrup
1 teaspoon EVOO
If possible, infuse the maple syrup with fresh ginger or hot peppers ahead of time
Otherwise add 1/4 teaspoon fresh grated ginger root and a pinch of dry cayenne pepper to the dressing.
Preparation
If you prefer to cook your own dried beans, cook the beans according to directions and as they finish, use Chardonnay Oak Barrel Smoked Salt and a few turns of pepper grinder on them for seasoning. Set aside to cool.
Julienne cut all of the greens.
Peel and shred or julienne cut the carrots.
Peel and julienne or spiral cut noodles from the turnips.
Mix all of the ingredients together in a bowl.
Lightly dress the salad and let sit for about an hour before serving. Check for seasoning.
Variations
To make a slaw, chop the greens, a second time until the pieces are smaller; use a large grater for the carrots and reduce the amount to 1 1/2 cups; and use a large grater for the turnips; eliminate the black eyed peas.
To make a soup, leave in the peas and add 3 oz of roasted onions, 3 oz of shiitake mushrooms, 4 cups of broth, 1 cup red rice, splash Worcestershire sauce and a small bit of prepared Two Pounds or dijon country-style mustard.