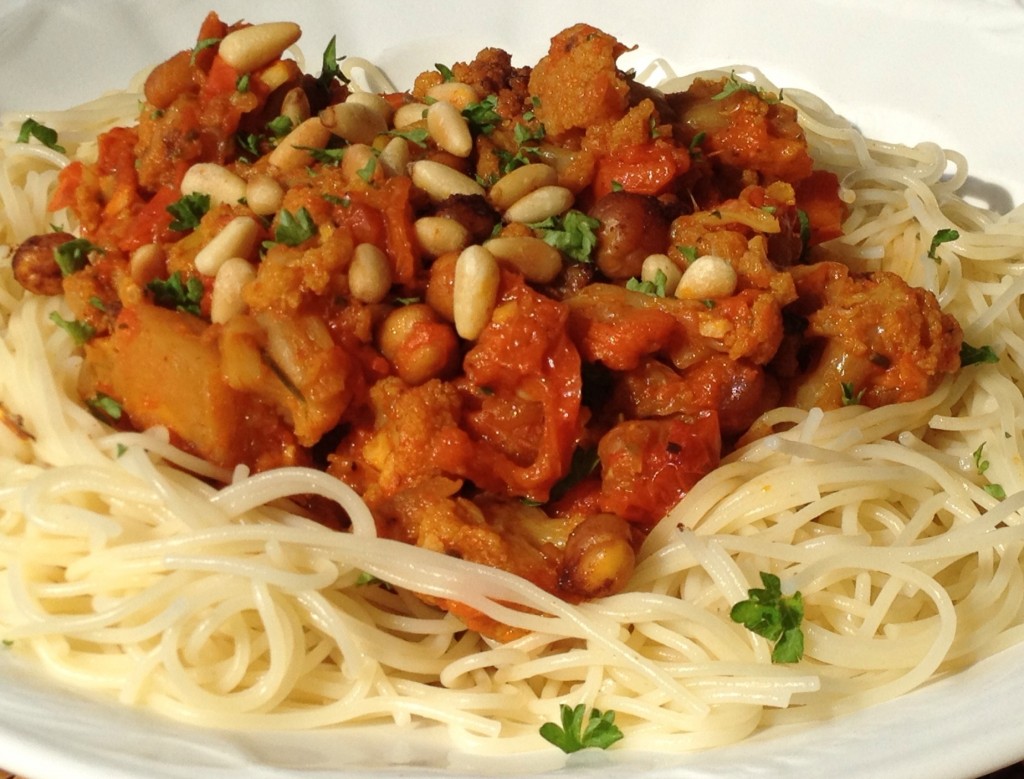 Many of you remember the funny looking giant orange tomatoes from Wild Onion Farm at the Raleigh Downtown Farmers' Market  last season. "Kellogs Breakfast" is a beefsteak  tomato with a sweeter profile. So initially I paired it with some spicy sausage from Cohen Farm for contrast. When I made the sauce for a market tasting, there was some left, which I brought home and froze in single serving containers for those nights when I wanted a quick dinner.
Today I pulled a couple of them because I also had some leftover roasted cauliflower that I sautéed in a Sambar spices from a recent lesson  at Vimila's Curryblossom Cafe in Chapel Hill. Armed with these two ingredients a good internet connection, I found a lot of recipes that combined tomatoes and cauliflower.  Searching through them I found many recipes also included chickpeas. And so I went to the freezer and found some roasted chickpeas.
Now we're cooking! I heated all the elements up on low in a wide bottom pot so the spices from the cauliflower and chickpeas would blend into the liquid from the tomato sauce. There was  still  more liquid than I wanted, and I didn't want to just cook it off, so I threw in some dehydrated Roma and Sungold cherry tomatoes to soak up the excess liquid. Just ten minutes later a wonderful "Meatless Monday" lunch emerged.
If you can't eat pasta, then there are a couple wonderful alternatives. The first is spaghetti squash. Just roast the squash for about 40 minutes at 400F with the cut side down on some parchment paper in a sealed pot or aluminum foil packet.  When it's tender, flip it back over and loosen some of the strands of squash before you add the add the tomato and cauliflower sauce.  Just serve it all in the skin.
The second alternative is to use Petite Golden Lentils, which look like a split yellow peas, as a base. They cook up in about 30 minutes and have a nutty flavor that holds its shape well. I recommend cooking it with a bit of sautéed carrot and celery in vegetable broth, both of which will blend well with the tomato and cauliflower. You might consider using this as a base for a soup and add some additional broth.
This recipe is made from the Kellog's Breakfast Orange Tomato Sauce base recipe (16 ounces – about 2 1/4 cups) , the Roasted Chickpea recipe (about 1/2 cup) (I just pulled out the pepitas). Then add some frozen Roasted Cauliflower (about 1 1/2 cups) sautéed with a little olive oil and Sambar Powder which was left from my cooking class at Vimala's Curryblossom Cafe  which is taught on Sunday's throughout the year. (Go light and start with 1/4 teaspoon add 1/4 at a time. The base is red chilies and peppercorns.)  I added about 1/16 teaspoon of both turmeric and cinnamon along with about a teaspoon of olive oil when I reheated the cauliflower with the spices.
At the end I dry toasted about 1/4 cup of pine nuts in a small pan until they were barely beginning to turn brown. Add them at the end so they stay a crunchy while you are eating the dish. All of these elements can be made separately when the necessary ingredients are in season and then put together for a really fast meal. If you have regular tomato sauce, it should work pretty well for this recipe. You won't get quite the contrast that the sweeter Kellog's Breakfast tomatoes adds, but it will still make a fine meal! And if you want a little more heat, there are those lovely dried cayenne peppers at the Carrboro Farmers Market. I would only recommend using a quarter to a half of one for this recipe and make sure to dump out the seeds first.
There are some stores to buy the Sambar Powder spice, but each recipe will vary because they are normally passed down in families. Vimala's came from her mother. If you would like it, it's part of her cooking class and well worth your time and money to take given the vast amount of knowledge she shares. I did find an "instant" recipe for Sambar on another site called Edible Garden and a spice powder you can purchase on Nataraja Spices.
Notes for Saving Cauliflower