Anyone that knows me knows I love to recycle just about anything. Recipes included. The base for this recipe is one of my family's favorites (Broccoli, Carrot & Orzo Soup) and I have to say that I have also used it in a puree form for both babies and sick family members because it's packed with lots of good flavor and easy to swallow.
The variation we sampled at the Carrboro Farmers' Market this week probably won't puree as well, but it's packed with even more color, nutrition and flavor. Best of all, it's really fast to make all year round if you freeze a few seasonal items as they come in during the spring and fall. There's also the added benefit of being a salad first and a soup on another day with all of the same ingredients and a lot of flexibility depending on your health needs. This is a light soup, so even if it's a warm spring or fall day, this soup is light.
To make the salad, just eliminate the broth and pre-cook and cool your pasta or quinoa. Toss the entire mixture with a light dressing or just some olive oil, salt & pepper, remembering to save some for use in the soup without the dressing.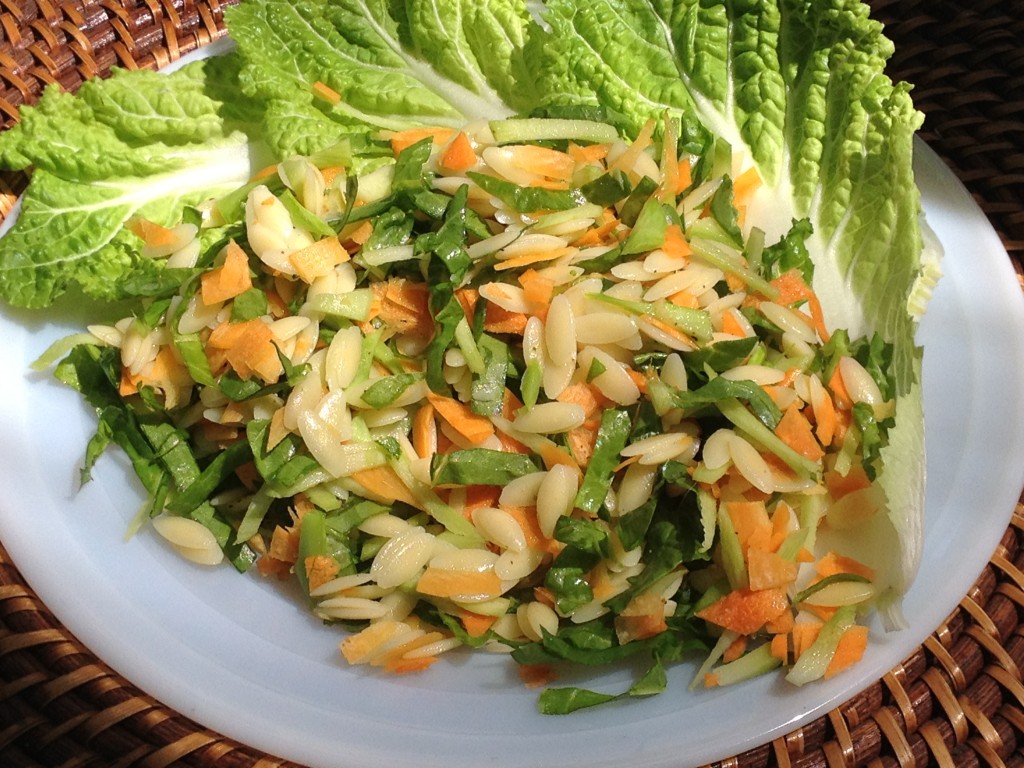 Broccoli, Carrot, Greens Soup with Pasta or Quinoa

Ingredients
1 cup chopped carrots ( ¼"  slices)
1 cup chopped broccoli stems peeled and chopped into ¼" slices
1 cup chopped broccoli florets, chopped into pieces about 1/4 – 1/2″
2 teaspoons chopped green garlic or green onion if available
½ cup dry orzo (or other small pasta or 1 cup cooked quinoa)
2 cups shredded baby chard (spinach is going to be stronger flavor)
1 cup baby or medium bok choy, stems and leaves
4 cups chicken or vegetable stock
2 eggs, beaten
2-4 Tablespoon Chapel Hill Creamery Calvander Asiago cheese, grated
Salt and pepper to taste
Salad Preparation – can be served warm, room temperature, or chilled

If you would like quinoa, couscous or orzo in your salad, prepare that according to the directions and set aside.
Wash and dry the chard & bok choy. Julienne cut it into thin 1/8-1/4″ strips including the stems of the bok choy (not the chard)
Prepare the carrots and broccoli. Make sure to cut away the outside thick skin that covers the larger stalk of the plant.
If you want cheese in your salad, use a medium grater
Clean and finely chop green garlic & green garlic and add to the salad
Toss everything together and add your favorite dressing.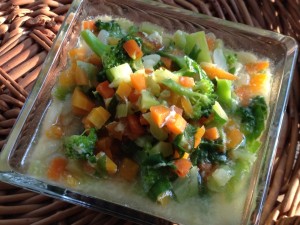 Soup Preparation
In a large pot, heat the broth to boiling and add the pasta, green garlic, onion, carrots and the stem slices of the broccoli (save the florets or they will over-cook). Partially cover and simmer for 10 minutes on low. Pasta may tend to boil over if the pot is not large enough or the heat is too high. If you choose to use quinoa, I recommend you cook it first using a baked method.
Stir in the remainder of the broccoli florets and cook 5 minutes on low simmer.
Bring the soup up to a boil again and slowly drizzle the beaten egg into the soup so it cooks as it hits the liquid. Stir constantly as you add the egg to get threads in the soup.
Add in the shredded greens. Cook one minute.
Add the cheese and season to taste with salt & pepper.
Notes
If you would like to make this soup in the middle of winter or summer as a Second Harvest recipe, you can steam the broccoli and carrots and freeze them to save a step when they are out of season. It's also possible to put them into the broth and add the egg and then freeze that mixture and pull it out and add cooked pasta, quinoa cheese or greens when you reheat it.