Minestrone loosely translated means "vegetable soup" and it reminds me of the colors of fall when the green leaves start to turn yellow, orange and red. I've adapted what is traditionally thought of as winter soup with root vegetables and heavy sausages to a lighter, colorful summer version that incorporates bright yellow and green summer squash along with orange and red heirloom tomatoes and beautiful shades of leafy greens and delicate cabbage. And then we just top it off with awesome goodness in the form of local cheese & fresh greens and herbs.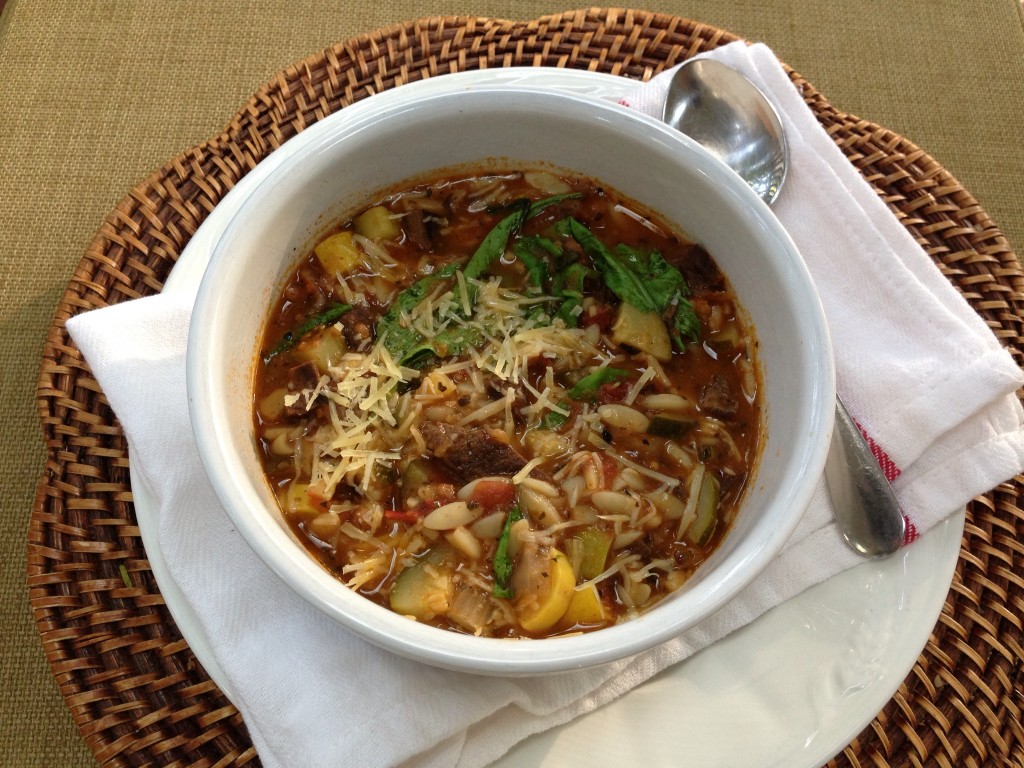 This mix of tomatoes, summer squash, onions and delicate greens presents a perfect base for just about any light meat, poultry, shrimp or fish you can throw at it. Leftovers are a wonderful addition to this soup. And if you're eating vegetarian style, try adding roasted chickpeas for a bit of crunch factor. For me, a minestrone soup that changes with the seasons is a perfect recipe for late summer evenings when the storm fronts start to bring in lower temperatures and less humidity. Sitting out on the porch with a bowl of soup just feels right in September. The tomatoes are harder to come by and the squash has started its final run before the farmers pull the plants for fall crops. The onions and garlic bulbs have been harvested and dried and some of the herbs are starting to put up their last flowers in hopes of dropping some seed into the soil before a frost comes along.
There is no special formula for this soup. Everyone has a family minestrone soup recipe so please feel free to make alterations. Don't despair if you are missing something or you don't have exactly the right amount. I use home-roasted garlic because it's a little more mild combined with the summer squash for this recipe. I used slow cooked onions because they are sweeter. The summer squash are simply cut into thick slices and brushed with salt, pepper and olive oil and then thrown on a very hot grill for the barest amount of time you can stand to get some lovely grill marks on both sides. Literally they cook for about 4 minutes total. Fresh herbs are better than dried, in my opinion, but the ridiculous spring and summer rain has ruined my home plantings this year so I relied on dried while cooking this up last week. In the summer version I prefer more delicate greens so they don't compete with the squash or just some fresh basil leaves thrown in right before you serve your guests. The greens should change seasonally to reflect their relationship with other vegetables in the soup. And as a reminder, try to find local farmers that are growing organically. They work hard to feed you well!
This recipe will make enough for 4 people and there are some additional serving suggestions at the end.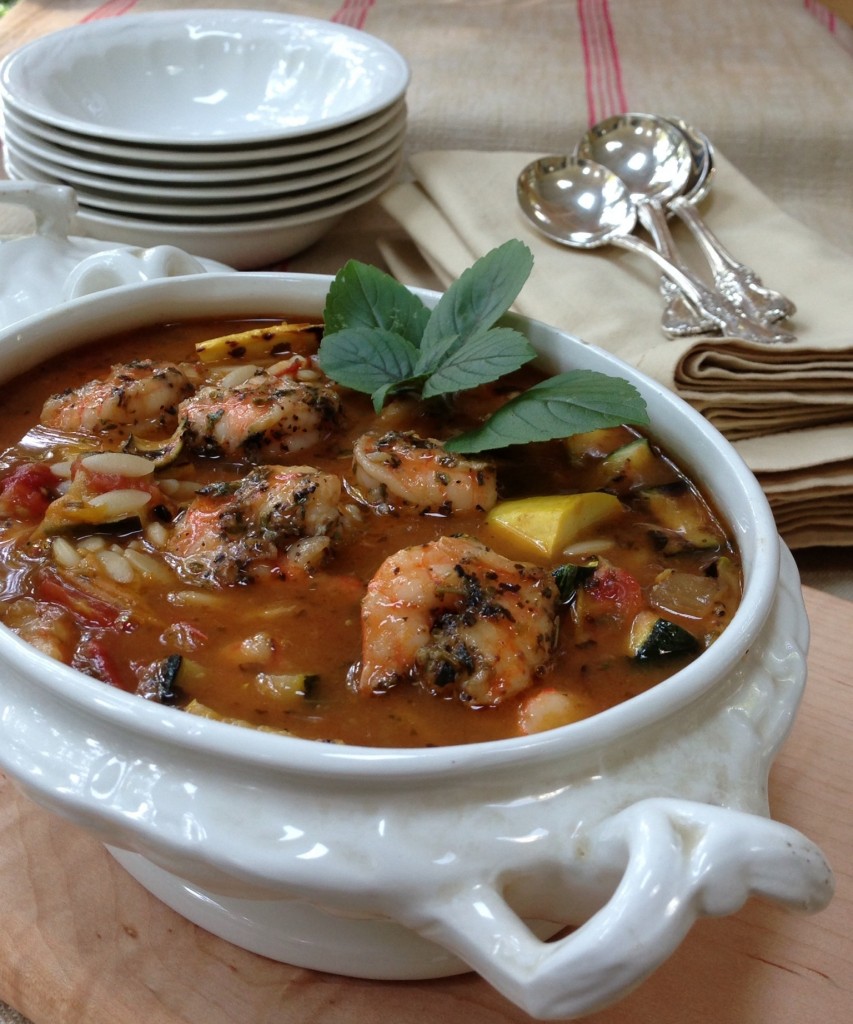 Late Summer Minestrone Soup
Ingredients
8-10 oz (about 2-3 cups) roasted tomatoes with juice, mostly chopped
1 cup slow-cooked onion, chopped
1 clove roasted garlic, smashed
1 tablespoon Italian seasonings
4 cups water, thereabouts, of beef or chicken broth mixed with water, or veggie broth
3 cups chopped grilled zucchini with olive oil, salt & pepper
2/3 cup orzo or other pasta or cooked white beans (drained)
2 cups shredded greens (arugula, bok choy, savory or delicate cabbage)
Optional protein – about 2/3 lb of shredded beef (beef heart was used in this recipe), chicken, fish, shrimp – something that will hold together well when added to a soup.
1/2 cup shredded Chapel Hill Creamery Calvander (Asiago style cheese would be my first choice but this is flexible so use what's local)
1/2 cup fresh parsley, chopped or basil – to top with the cheese as serving
Preparation
Add the roasted tomatoes, water, broth, onion, spices, and garlic to a pot and bring to a low simmer on medium high heat until heated all the way through. About 5 minutes.
Add in the pasta or beans and cook until almost done or heated through along with any protein (meat, chicken, fish ). Keep an eye on the pasta and beans so they do not stick to the bottom of the pot. Stir if necessary.
Add in the shredded or baby greens and zucchini pieces just before the pasta is finished cooking (about 2 minutes before it's finished) and heat for another couple of minutes. The temperature will drop slightly so you may have to increase the heat to bring it back up quickly. Again, keep an eye out for the pasta and beans, stirring as necessary.
Top each bowl with fresh herbs and cheese while the soup is hot.
Notes
As an option, serve with corn bread croutons along with the herbs and cheese or eliminate the pasta and serve over creamy grits or polenta.