Strange weather we've been having this year. It's basically been raining all year so the tomato crop was slow to come, slow to develop and quick to leave with viruses and rot. If you like green tomatoes, this was your year to enjoy them. Eggplant was another crop that didn't thrive with our usual heat and sun. By now, the farmers are generally begging shoppers to take eggplant off of their hands. But this year there were far fewer and much smaller in size. The upside of this predicament is that the smaller eggplant tend to be more tender, less bitter with thinner skins. Many farmers grew new varieties this year as well, to appeal to local restaurants for quick grilling and small plate appetizers.
Here's the advantage for all of you home cooks: You can grill or pickle these smaller varieties more readily for use all winter long.  Eggplant adds a lot of base flavor to many dishes. And it's a great thickening agent for your chili or soup, especially when you employ a couple of easy tricks while cooking it.
First, eggplant varieties and size determine the bitterness of this vegetable. The lighter colored ivory and light purple varieties like Rosa Bianca, Listada De Gandia or Rotonda Bianca tend to have thinner skins and more mild flavor. There are several other small and delightful varieties of eggplant for individual servings or for pickling that you can find now at local farmers' markets like the Fairy, Thai and Japanese White that also have interesting flavors.
Second, eggplant  is like a sponge and it LOVES heat, humidity and water as much as it loves the sun. Depending on how you will use the eggplant, you can cube it to saute, thinly slice it or cut it in halves to grill or roast, but you will need some olive oil to keep it from sticking to any surface as it dries out while cooking. If you are going to grill the eggplant, oil your grates and apply a thin coating of olive oil to the eggplant slices or small eggplant cut in half before you put it on the grill. If you plan to roast it, apply the olive oil to the eggplant with some seasoning before placing it in the oven. And if you plan to sauté it, you'll need some oil in the pan after it heats up which the eggplant will immediately soak up.
Third, eggplant plays well with other foods and herbs whether you choose a vegetarian dish or something with a protein, you can change the dynamic value of this veggie to be the star or just a side note in your recipe. One of my favorite ways to cook this for later use is using Alder Wood smoked salt and Mesquite & Apple Wood smoked peppercorns with a stronger olive oil from Nocellara olives. There are a couple of certified organic olive oils available on the market each year from smaller orchards. This combination of salt, pepper and good EVOO provides an undertone to soups, hummus spreads and chili that most people can't identify but allows the dish to be vegetarian with a hint of smoky flavor.
Many chefs will scoff at using different salts, thinking they are all like "seasoned salt" with additives that can be commonly found at the grocery store, but I like to use different salts and peppercorns from different parts of the world. Salts from Hawaii or the Murray River in Australia have distinct flavors and smoked salts & peppercorns take on flavors from the wood that's used just like your food would in a similar situation.  These seasonings become another layer in your recipe. To me, this is no different from choosing the correct chile from a geographical region for a dish or putting together a curry based on the herbs of a particular culture. They can get expensive, but I find a little goes a long way when using these products so you need less than regular salt and in many cases they enhance the dish better than generic salt.
Now on to the recipe. There's another one on the website which was the start for this one. It's the Tomato & Cauliflower Pasta dish. Sometimes there are leftovers in the house which don't lend themselves to storage easily, so they become something else in an effort to avoid waste. The tomato soup started as very old recipe from Cooking Light which you can make in your blender. It was a great summer recipe but it lacked the weight and depth of flavor I wanted in February and March when it is cold, rainy and generally damp. Eggplant seemed to provide what I was looking for in the base and it breaks down well after it's cooked. Adding some smoke to the recipe with the salt and peppercorns made it appealing for cooler nights when a simple grilled cheese sandwich with wilted greens would fit the bill for a quick and nourishing dinner. Leave that sandwich open face and add an egg for even more protein or use risotto with mushrooms, greens and cheese as a side dish. There are so many ways to vary this soup as a meal depending on what you have available at your local farmers' market.
The base recipe is forgiving and depending on the harvest, you will have more or less liquid and acid in your roasted tomatoes. For a sweeter base, add more yellow and orange tomatoes. For more acid, lean towards the very dark reds like Cherokee Purple. Only add the smoked salt and peppercorns to the eggplant. Use  Himalayan or Murray River salt with the tomatoes which will highlight their bright clean flavor from summer.  I normally roast my tomatoes with local garlic, sweet onions and a variety of herbs so it's ready to go for several recipes during the winter. You can choose to use canned tomatoes like the organic Muir Glen roasted tomatoes with herbs and the recipe will turn out just fine. You won't be able to add as much salt if you go in that direction. So be careful with your eggplant.
Please remember that for many of these recipes, the base ingredients are cooked, frozen, dehydrated and canned when they are in season. Creating the final products is quick compared to starting from scratch each time. Use what is most similar on hand for the recipes as they tend to be forgiving for quantity and spice range.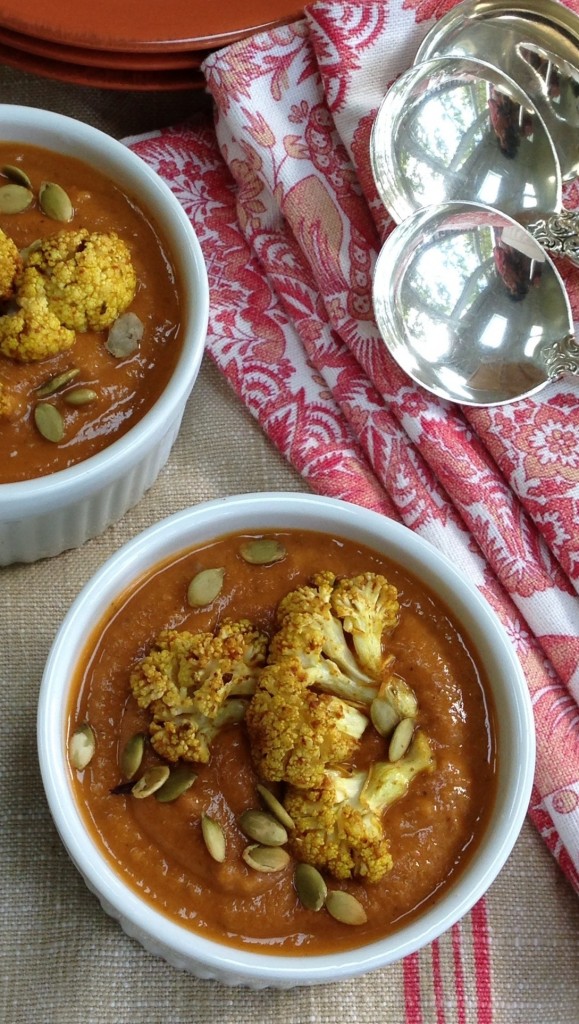 Roasted Tomato, Eggplant & Cauliflower Soup
Ingredients
1/3- 1/2 cup cooked red lentils (not essential)
8 oz cooked carrots (sautéed in olive oil is best)
16 oz roasted heirloom tomatoes with herbs & onions
4 oz slow roasted tomatoes with balsamic vinegar (if you have them)
6-8 oz eggplant grilled or saute with Olive Oil, Alder Wood smoked salt & Apple & Mesquite Wood smoked peppercorns (finished weight)
1 tablespoon roasted garlic (half if you use raw)
1 tablespoon dehydrated parsley (use more with fresh, it tastes better)
1 tablespoon dehydrated celery leaves (use more with fresh or eliminate)
3 1/2- 4 cups vegetable broth (or chicken broth)
3/4 cup Spicy Chickpeas (www.tarheelfoodie.com/2011/09/10/roasted-chickpeas-pepitas/)
1-2 cups of chopped roasted cauliflower with olive oil & curry powder of your choice
1 tablespoon toasted pumpkin seeds with salt for topping
Preparation
Warm everything except the cauliflower and pumpkin seeds together in a pan for about 15 minutes.
Blend together until smooth.
Top with warm cauliflower and pumpkin seeds.
Notes
You can leave out some of the chickpeas and add them to the topping after they are reheated (in toaster oven on parchment).
If you use plain chickpeas from a can, rinse them well and add the spices to the soup in a reduced amount from the original Spicy Chickpea Recipe or process them as you would dried/fresh chickpeas.
If you eliminate the slow roasted tomatoes with balsamic vinegar, only add the vinegar if you have a good long-aged vinegar because roasting it with the tomatoes sweetens the flavor of the vinegar. Less aged vinegar tend to be much more acidic. Use it sparingly or eliminate it altogether.
If your tomatoes do not have onions added, use about 1/4 cup slow cooked sweet onions to balance the tomatoes and eggplant.
If you have leftovers or you want to hide the cauliflower, simply blend it into the soup after you have roasted it.