July and August are so unbearably hot that it's difficult to think about eating some days. There are lots of healthy spreads and dips you can use to coast through a meal and many of them freeze exceptional well if you want to make them ahead of time. This recipe started as one of Heidi Swanson's from her Super Natural Every Day cook book. In my opinion, it was a bit plain the first time I made it, but the base was smooth and creamy so I thought I might add a  bit of smoke, salt, texture and color with marinated olives, smoked salt and roasted garlic, onions and red peppers to create some variations on the theme for different seasons of the year. This along with some home-made crackers and a fresh salad are a great finish to a hot summer evening or a lovely beginning to a warm meal in the winter.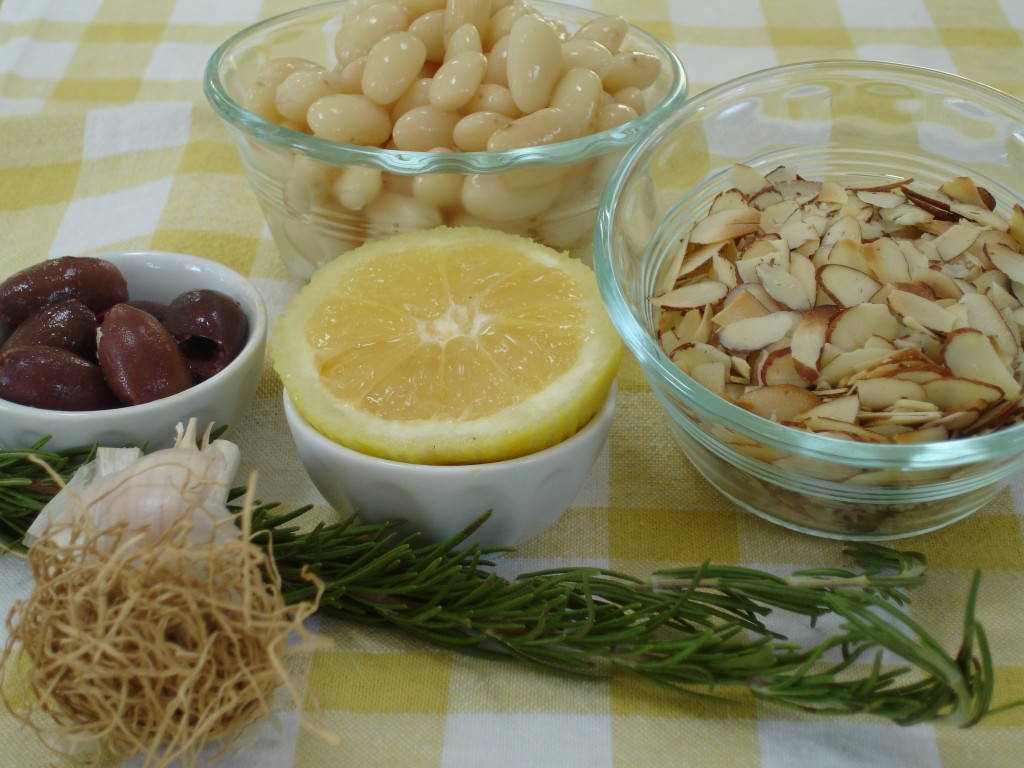 White Bean & Toasted Almond Spread with Fresh Rosemary & Marinated Olives
Ingredients
2 tablespoons extra virgin olive oil
1 cup cooked & drained cannellini beans
1/2 – 1 teaspoon minced roasted garlic
1/3 cup toasted slivered almonds for spread
4 teaspoons fresh lemon juice
1/4 cup filtered water
1/2 teaspoon Chardonnay Oak Barrel Smoked Salt
3/4 teaspoon finely chopped fresh rosemary leaves
1/2 teaspoon minced lemon zest
2 tablespoons marinated olives (your favorite type), finely chopped
1/3 cup toasted slivered almonds for garnish
Preparation
Dissolve the salt in the 1/4 cup of water.
Using a food processor, combine beans, garlic, almonds, lemon juice and water (with salt).
Pulse until creamy and then hand mix in your finely chopped olives, rosemary, and lemon zest.
Garnish with the remaining 1/3 cup of almonds.
Notes & Options
Include a couple of tablespoons of finely chopped roasted red pepper (you can blend them in the food processor & the dip will change colors)
Blend a tablespoon of finely chopped caramelized sweet onions in the food processor portion of the recipe.
Blend 1/4 cup of shredded Chapel Hill Creamery's Calvander or Thunder Mountain Swiss cheese
If you use canned beans instead of dry, you may need to reduce the added salt.