It's every bride's dream to have a proper wedding with clear weather and perfect temperatures for her special day. We've all been to one or two that came off without a hitch. Flowers that looked like they were just picked from a field. Every hair in place for every photograph. But the reality is that brides everywhere plan for surprise rain storms, early or late snow flurries, windy weather with acorns and leaves flying around in mini tornadoes and summer heat and humidity that conspires to wilt the entire wedding party and melt all of the guests into puddles of water on the pavement.
Locals around Boone will tell you if you don't like the weather, either wait fifteen minutes or drive fifteen miles. A change in elevation makes all the difference in the world when you're sitting high above sea level. All I have to say about having an October mountain wedding is be prepared for sandals or boots. It can be seventy-five and sunny or below freezing and snowing. The weather  can and will change dramatically in a matter of hours or minutes along the Appalachian Mountain Range and what happened yesterday may have no bearing on what happens today.
This is the tale of a perfect day for a family wedding in one of my most favorite towns in North Carolina. My son and his new wife both graduated from Appalachian State University. They drew upon their love of mountain trails, ever-changing weather, and the resourceful people they met in Boone to create a small intimate wedding at their favorite eatery, Proper.  In the process of  celebrating their new life together, they united two families with very different backgrounds in a community they consider their home away from home.
The town of Boone was incorporated in 1872. The area was founded by English, German and Scotch-Irish coming from the foothills after the Revolutionary War. Boone has grown from 850 original residents to more than 18,000 today with Appalachian State University located in the heart of downtown. During the flood of 1940, many of the older buildings along with the railway were destroyed. But the jail, which was built in 1889 on one of the higher hills, prevailed and now houses the restaurant Proper. It is the third oldest building in town, and provides a quirky setting with brick walls on the interior and a quaint front porch.
There's a lovely shaded patio with an old tree in the front of the building. A beautiful small grass area flanks the front walk opposite the patio and looks like it was designed for a perfect picnic area with blooming bushes and flowers surrounding it. Huge stone steps and an old iron fence welcome visitors like no other building in town and set the scene for an idyllic wedding venue.
As it turned out, the  weather in October was absolutely perfect. The bride was able to hide on the side of the building and use the stone walk through the patio area and waiting guests to arrive at the stone steps in the front. The groom waited patiently to see her in her dress as she rounded the corner of the patio, which worked out ideally. Family guests fit easily along the patio and front walkway, with great views of the wedding party and everyone could easily hear the ceremony. Had it been warmer, this area would have been used for cocktails or dessert with lights strung in the huge old tree flanking the area.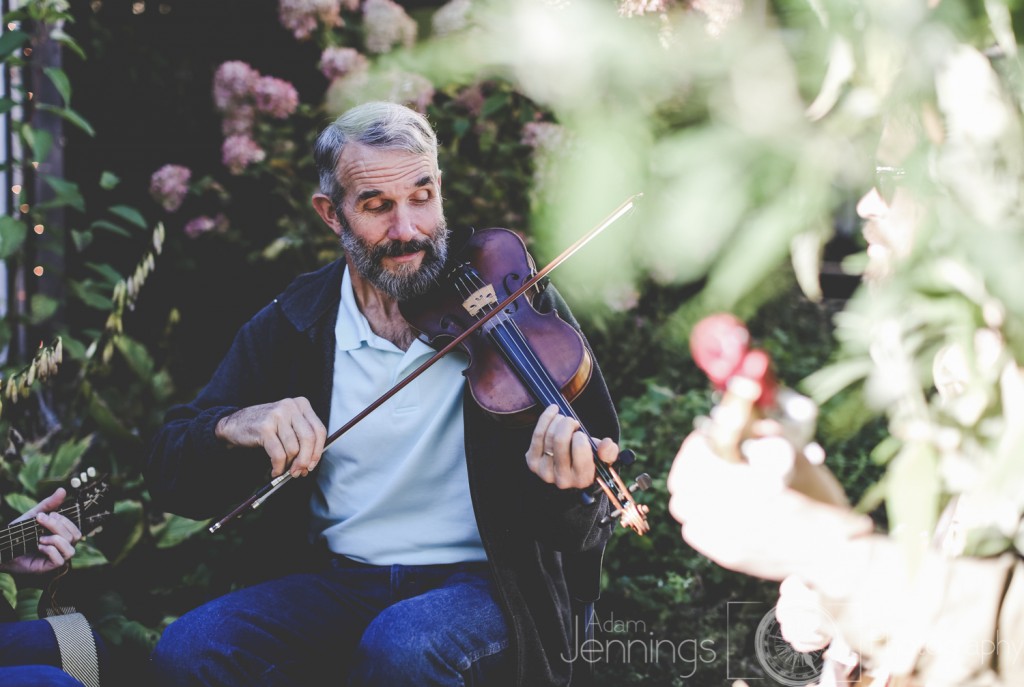 Music provided by Mark Freed, Cecil Gurganus & Trevor McKenzie. Adam Jennings Photography
The little grass area in the front yard provided the perfect location for the trio of local musicians, Mark Freed, Cecil Gurganus and Trevor McKenzie. Mark teaches at App State, which is where my son first met him. I was totally amused to find out that my son who majored in construction, took a class in 'music appreciation', and even passed it. The trio selected a mix of old and new tunes to play on fiddles, guitars, and a banjo before the wedding and during the reception. They really did an excellent job setting the atmosphere for a relaxed party, so I would highly recommend them if you are planning an event in the area.
Shady Grove Gardens provided the flowers. They have a small farm located just outside of Boone and they sell at the local county farmers' market each week during the main growing season. The bride adores fall colors so it was pretty easy for Susan, at Shady Grove, to figure out complimentary flowers using a mix of seasonal flowers, bulbs and greenery from her hoop houses.  She even created a special arrangement for one of the bridesmaids that uses a walker, which turned out quite lovely.
Communities along the Blue Ridge Mountain range, have naturally short growing seasons which make it challenging to run a profitable agriculture business. Many farms rely on hoop houses and supplemental heat to extend seasons whether they are growing veggies or flowers. Interior row covers provide help in maintaining temperatures but add to the cost of production through increased labor. Contacting growers early is important, as they plan sometimes a year in advance for larger events. If you want any bulbs or plants forced or carried into a different season than is normal, they have to be able to purchase and hold those plants and bulbs for some period of time before forcing them, making it a little more complicated. But if you are willing to work with what is in season, your costs can be less and the quality is really unmatched when you consider that it will normally be picked just a day or two before you need it.
Shady Grove, will also supply you to with 'buckets' of flowers to arrange yourself and they coordinate those to the arrangements for your event. Since the weather was questionable and the finished table layout was still open due to weather changes, the bride ordered a couple of extra buckets of flowers. There were more than enough mixed flowers and greenery to put into mason jars on the table along with pansies plants from a local vendor and small gourds from the Raleigh Farmers' Market.
The wreath above the hearth was created by a local artist from the Watauga Farmers' Market. Sandi, from Mountain Basketry, gathers natural items on her regular walks through the woods near the Blue Ridge Parkway and uses them on seasonal wreaths and in her mountain baskets. She made this wreath overnight, specifically to fit above the mantel at the restaurant, using colors that highlighted the floral arrangements.
Heirloom winter squash from Matt Cooper of Lively Up Farm in Valle Crucis at the Watauga County Farmers' Market adorned the outside steps, adding a little more color and texture. As an added benefit, all of the squash were able to be used later at the restaurant for food. The guys (RJ & Matt) that grow these squash up in the mountains are amazing. You can ask them about any one of the many varieties they have at the market and they will tell you about the flesh, color, flavor, and cooking attributes of each and every one and even make suggestions on how to use them in recipes. It's quite an education to spend a little time with RJ or Matt.
And now to the food, which you know is my favorite topic!  The couple picked out their favorite items from the menu to serve to guests. Everyone came from out of town so it was important to have a good showing of southern food! The restaurant buys from several local farms. So we started the fabulous meal with some fresh fall greens that were lightly dressed.
From the fried chicken and meatloaf to potato cakes with pimento cheese, the food was excellent along with the service. We had traditional sweet tea along with fall cobbler and pecan pie. #SouthernFood ruled and it was all wonderful! Given the size of the jail, family-style service fit the bill. People were talking to each other as large bowls and platters of food were passed around the table. There's nothing that says 'family' more than helping fill the plate of another person that you have just met over the weekend celebration, totally ignoring their suggestion of a 'spoonful', when you know they want more.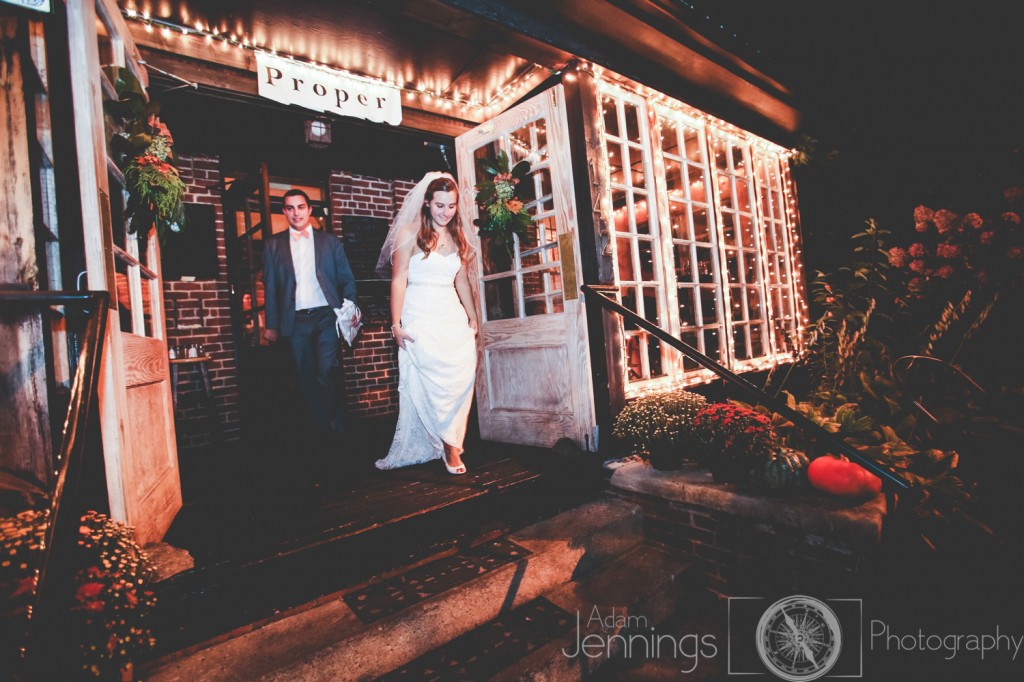 So if a #JailHouseWedding is just your sort of thing, Proper is the place I'd recommend you go! They serve southern food with a twist using locally-sourced, seasonal ingredients and genuine southern hospitality from the planning stages through the execution of your event. There's nothing fussy about this place and you'll feel like you are right at home with the staff. The menu changes somewhat each week with specials highlighting what is grown or raised from local farmers. During good weather, there is a small shade covered patio for guests along with a glass porch that is ideal in chilly weather. You can still see the remnants of the old stairway inside the main building and years of wear on the floorboards and stone steps out front. Quaint & eclectic doesn't begin to describe the magic that happens here with a devoted owner and staff.
I can't say enough about the young photographer, Adam Jennings, who is also a graduate from App State. I've used a number of young photographers over the years and been rewarded with some amazing pictures and endearing relationships. As a professional artist, these folks depend on recommendations. If  you are located in North Carolina and need a photographer, take a look at his portfolio. He traveled to Boone early in the morning and spent the entire day photographing the bride & groom getting ready, going through the ceremony and having a family meal. I can't say enough for the many hours he put in along with hours editing the hundreds of photographs he took.
Personally, 2014 was a wonderful year. I took some time off from cooking and a heavy demo schedule to get ready for this exciting life event. Please enjoy the places highlighted and continue to support the great small sustainable farms and vendors in your area that are the foundation for all of our communities around the state. Shop consciously. Don't be afraid to ask questions.